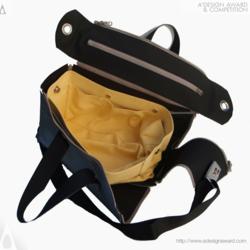 Como, Italy (PRWEB) September 03, 2012
A' Award and Competitions are delighted to share that the project Drop Top Design by Diego Blengino and Ruspa Officine SPA has been granted the prestigious Golden A' Design Award in Fashion and Travel Accessories Design Category marked as one of the winners by the international jury members of the A' Design Awards & Competitions amidst thousands of participants.
Regarding Drop Top Design
Diego Blengino, the designer of the winning project Drop Top Design demonstrates "A bag that can be zipped apart (and back): This is a modular and reconfigurable bag inspired by the "Sub" textile, which is normally used for cars covers, Drop Top became the distinctive symbol of the new line of UrbanikaB brand with its flexible pieces, that can be connected with each other through zippers. The use of intelligent materials and an accurate technical craft, which is typical of the made in Italy, create products, that lead the new trends." Learn more at: http://www.adesignaward.com/design.php?ID=24101
The Golden A' Design Award
The Golden A' Design Award is a prestigious award given to top 3% percentile designs that has accomplished an exemplary level of greatness in design. The designs are judged by a panel of three different jury which is composed of Academic, Professional and Focus Group Members. The designs are evaluated with score normalization to remove any biases and are voted on aspects such as functionality, ergonomics, engineering, presentation, innovation, usability, fun details, technology, and any other specific points that could be considered, each of these points are further weighted for different jury groups.
About A' Design Award and Competitions
A'Design Award and Competitions, aims to highlight the excellent qualifications of best designs, design concepts and design oriented products. A' Design Award and Competitions are organized and awarded annually and internationally in multiple categories to reach a wide, design-oriented audience. Learn more at: http://www.whatisadesignaward.com