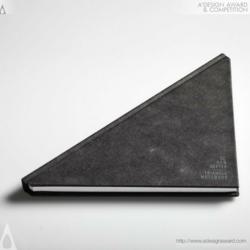 Como, Italy (PRWEB) September 03, 2012
A' Award and Competitions are proud to announce that the work Triangle Notebook by Tan Mavitan has been awarded with the famed Golden A' Design Award in Art Materials, Stationery Supplies and Gift Items Design Category selected as one of the winners by the international jury members of the A' Design Awards & Competitions amidst numerous works.
Details of Triangle Notebook
Tan Mavitan, the designer of the winning work Triangle Notebook demonstrates "The Triangle notebook is a subversive approach to the traditional rectangular notebook. Its triangle shape opens up as a perfect square on which to write. The lines are positioned at 90 degrees on each side. Thus, each ruled page turns into a squared page, if back lit. Its shape makes it easy to carry around and suitable for short notes and drawings." To learn more visit: http://www.adesignaward.com/design.php?ID=24518
The Golden A' Design Award
The Golden A' Design Award is a prestigious award given to top 3% percentile designs that has delivered an exemplary level of sublimity in design. The designs are judged by a panel of three different jury which is composed of Academic, Professional and Focus Group Members. The designs are evaluated with score normalization to remove any biases and are voted on aspects such as functionality, ergonomics, engineering, presentation, innovation, usability, fun details, technology, and any other specific points that could be considered, each of these points are further weighted for different jury groups.
About A' Design Award and Competitions
A'Design Award and Competitions, aims to highlight the excellent qualifications of best designs, design concepts and design oriented products. A' Design Award and Competitions are organized and awarded annually and internationally in multiple categories to reach a wide, design-oriented audience. Learn more at: http://www.whatisadesignaward.com