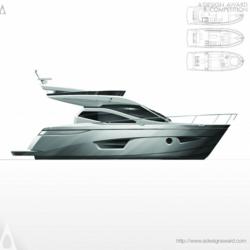 Como, Italy (PRWEB) September 05, 2012
A' Award and Competitions are proud to announce that the work Portofino Fly 35 by Portofino Yacht Design Team became winner of the noteable Silver A' Design Award in Yacht and Marine Vessels Design Category picked as a winner by the transnational judging committee of the A' Design Awards & Competitions amidst a great number of works.
More information on Portofino Fly 35
Jean Gilbert Dupont, the project leader of the winning project Portofino Fly 35 says "The Portofino Fly 35, filled with natural light from large windows located in the hall, also in the cabins. Its dimensions offer unprecedented feeling of space for a boat this size. Throughout the interior, the color palette is warm and natural, with the choice of equilibrium compositions of colors and materials, making the environments in modern and comfortable areas, following the international trends of interior design. " To learn more visit: http://www.adesignaward.com/design.php?ID=25182
Design Team for Portofino Fly 35
Portofino Fly 35 was realized by Portofino Yacht Design Team: Gilberto P. Dupont, Jean Dupont, Felipe Dupont, André Dupont, Ovid Duncan, Marta Lopes, João Vitor Bonanno and Márcio Guirado.
The Silver A' Design Award
The Silver A' Design Award is a prestigious award given to top 5% percentile designs that has accomplished an exemplary level of quality in design. The designs are judged by a panel of three different jury which is composed of Academic, Professional and Focus Group Members. The designs are evaluated with score normalization to remove any biases and are voted on aspects such as functionality, ergonomics, engineering, presentation, innovation, usability, fun details, technology, and any other specific points that could be considered, each of these points are further weighted for different jury groups.
About A' Design Award and Competitions
A'Design Award and Competitions, aims to highlight the excellent qualifications of best designs, design concepts and design oriented products. A' Design Award and Competitions are organized and awarded annually and internationally in multiple categories to reach a wide, design-oriented audience. Learn more at: http://www.whatisadesignaward.com