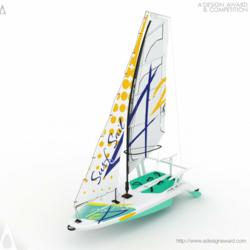 Como, Italy (PRWEB) September 07, 2012
A' Award and Competitions are pleased to share that the work Surfsail42 by Hakan Gürsu has been honored with the prestigious Bronze A' Design Award at Yacht and Marine Vessels Design Competition picked as the winner by the esteemed referees of the A' Design Awards & Competitions among numerous nominations.
Insights on Surfsail42
Hakan Gürsu, the lead designer of the awarded design Surfsail42 explains "SurfSail42 is the first foldable space-saving sailing vessel that allows both sailing and surfing. It is designed for both single and dual usage for training, entertainment and professional purposes. Either for learning, professional sports or fun, SurfSail42 transforms surf sailing concept by offering a social windsurf experience or a sailing time together. Named both after for being for two persons and having a board sized 4.20 m, SurfSail42 aims to attract people to surfing and sailing sports." Learn more: http://www.adesignaward.com/design.php?ID=25342
The Bronze A' Design Award
The Bronze A' Design Award is a prestigious award given to top 10% percentile designs that has attained an exemplary level of perfection in design. The designs are judged by a panel of three different jury which is composed of Academic, Professional and Focus Group Members. The designs are evaluated with score normalization to remove any biases and are voted on aspects such as functionality, ergonomics, engineering, presentation, innovation, usability, fun details, technology, and any other specific points that could be considered, each of these points are further weighted for different jury groups.
About A' Design Award and Competitions
A'Design Award and Competitions, aims to highlight the excellent qualifications of best designs, design concepts and design oriented products. A' Design Award and Competitions are organized and awarded annually and internationally in multiple categories to reach a wide, design-oriented audience. To learn more visit: http://www.whatisadesignaward.com