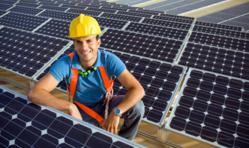 America Green Jobs
California (PRWEB) September 06, 2012
Peak Solar LLC is proud to announce the recent hiring of 11 new solar sales managers in the state of California, seven of which were hired out of the Northern California region alone! Three were hired in the Los Angeles region and one added in San Diego. Peak Solar had been looking for qualified people who were passionate about green energy and the response we received has been amazing. Employment opportunities, especially in North California are at an all time high in the solar industry. Peak Solar plans to hire an additional 15 more sales and development managers over the next 6 months alone!
All new employees meet or exceeded the following qualifications: Bachelor's degree. Preferred Solar sales experience preferred. Excellent analytical skills with finance or business concepts knowledge. Experience and/or understanding with solar leasing or equipment leasing. Local candidates only based in California.
Employment manager John Bucher can be reached for media interviews at the following contact: careers(at)peaksolar(dot)com or go to PeakSolar.com.
"It's good to be able to grow Peak Solar especially in tough economic times this country is currently in, the nation should look to growing sectors such as green energy as a source for jobs in the 21st century." -John Bucher
About Peak Solar:
PeakSolar.com is an international expert in solar development and engineering as well as a leading supplier of photovoltaic components and solar kits. Providing turnkey PV systems for residential, commercial and industrial applications. Based out of Boca Raton, Florida Peak Solar has developed systems ranging to the home consumer, corporate energy and solar power manufacturing development parks. Peak Solar has developed over 100 millions dollars worth of energy development in the United States alone.