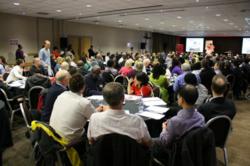 My strategies will show you how to keep your price and still sell your properties quickly, by simply changing the formulas
(PRWEB) September 01, 2012
The global financial crisis has battered everyone's economy, with no exception even for the first world countries like the UK and Australia. As the economic decline pounds on the property market, house prices drop to make them easier and faster to sell. But dropping the price does not always work according to property educator Rick Otton.
"Unfortunately, traditional processes usually result in the house sitting on the market for many, many months while the agent keeps dropping the price, because that's the only way they know how to attract buyers," he said.
According to Mr. Otton dropping the price doesn't make a house sell faster because in many cases, dropping the price only creates a financial loss for the seller and doesn't create a financial benefit to the buyer, who still can't purchase the property.
"Over the years, my students and I have found that marketing a house based on how easy it is to own far outweighs selling a house on its features and benefits. For example, if a property is marketed as 'No bank loan required to own this $600,000 house', it will sell much quicker than a comparable house that's marketed as having 'Shiny new taps and fresh paint'," he said.
He also explained that making a house easy for someone to buy, makes it easy (and faster) to sell. When a seller makes a property easy to buy, and makes the decision easy for the buyer to make, then he can sell a property faster and for more money than he ever thought possible.
"Two components are needed to buy a property: finance and cash," Mr. Otton said. "In reality, in today's market there is very little available finance and what is out there is rapidly becoming more expensive. Just imagine how much easier it would be in this time of reduced bank lending if you could simply service the loan already obtained by the seller, and didn't have to get a new loan. It would be quicker and simpler to put a property transaction together, with less fewer forms," he added.
For more than 30 years, Mr. Otton has been teaching his students property investing techniques that are non-traditional yet effective. These are the same strategies that he developed during the Savings and Loans Crisis of 1990, only more developed and sophisticated.
"The last time we updated the property system in Australia was 1919, so maybe it's time we modernised the vehicle we use to buy and sell property too. My strategies will show you how to keep your price and still sell your properties quickly, by simply changing the formulas," he added.
To learn more about Rick Otton and his property seminars, please visit:
[HowToBuyAHouseForADollar.com/Register
Rick Otton has spent decades making money by snapping up inexpensive real estate and putting it to work building wealth. Now, he's teaching other Aussies how to do the same.
Otton is the founder and CEO of We Buy Houses, which operates in the U.S., U.K., Australia and New Zealand putting his strategies to work every day.
Otton got his start in alternative real estate investment in 1991 and within a year acquired 76 properties. In years after, Otton made a fortune using his low-risk, high-reward strategies to inexpensively acquire real estate.
Now, Otton wants to share the wealth by sharing the wisdom, teaching Aussies how to buy and sell real estate without cutting banks and other middlemen in on the deal.
Otton has been featured in a variety of television programs and magazines, including Today Tonight, A Current Affair, Australian Property Investor and more.
You can learn more about Otton and how to invest in residential real estate without using banks at http://www.rickotton.com.