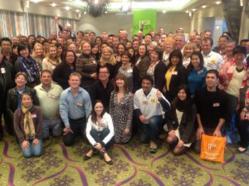 These strategies are tailored to those people who are usually turned down by traditional lenders for so many petty reasons like imperfect credit history or non-regular job. I want to give these people the chance to buy their own house
(PRWEB) September 02, 2012
Fresh from the success of his August book tours, renowned Australian property investor and coach Rick Otton is gearing up for five more one-day live events from now until November. His goal is to educate aspiring homeowners and property investors that there is a way to build wealth in real estate without being limited by cash, credit or experience.
Rick Otton provides property investment boot camp seminars where his students get to know the secret to obtaining positive property cash flow even for negative-geared properties. Mr. Otton also demonstrates the whole process of buying and selling houses, including tips on how to make the deal a win-win situation for both sides.
One of his students, Brett, shares one of the transactions he has closed using Mr. Otton's techniques. "My wife and I spent a few days in the country town of Taree, looking for a house to buy and then onsell for a profit. We bought a place for $125,000 with a six-week settlement, and access to the property for four of those weeks to put signage up and show people through," he said.
Brett used the traditional yellow cardboard signs that said 'No bank qualifying, for sale by owner, low deposit, $325/week' and palced the ads in the local papers as well. This type of advertising that Brett used, according to Rick Otton, is effective because it is simple, eye-catching and easy to understand. "The bigger and simpler the ad, the better. It doesn't feel intimidating like those corporate signs," Mr. Otton explained.
His strategy was so effective that his phone started ringing as he started driving back to Sydney. "We got a lot of inquiries from a lot of people on welfare who didn't qualify as buyers," Brett said.
He on sold the house to a first homebuyer with a $10,000 deposit, plus the $7,000 first homebuyer's grant, which was paid up-front. "They bought the house for $152,000 on an instalment contract with payments of $325 a week. It gave me a backend profit of $27,000 when the buyer refinanced," Brett added.
"I'm proud with what my students like Brett have achieved because it says so much about me as a coach," said Mr. Otton. "My students are testament of how applicable and proficient my strategies are," he added.
Innovation and creativity are the trademarks of Rick Otton's strategies, and it is these core values that Mr. Otton drills into his students as he teaches them property investment secrets for Aussies.
"These strategies are tailored to those people who are usually turned down by traditional lenders for so many petty reasons like imperfect credit history or non-regular job. I want to give these people the chance to buy their own house regardless of their age, work, or financial situation," said Mr. Otton.
Rick Otton has launched a series of property investing seminars to provide an in-depth discussion of these property strategies. For more info, please visit: HowToBuyAHouseForADollar.com/Register
About Rick Otton
Rick Otton has spent decades making money by snapping up inexpensive real estate and putting it to work building wealth. Now, he's teaching other Aussies how to do the same.
Otton is the founder and CEO of We Buy Houses, which operates in the U.S., U.K., Australia and New Zealand putting his strategies to work every day.
Otton got his start in alternative real estate investment in 1991 and within a year acquired 76 properties. In years after, Otton made a fortune using his low-risk, high-reward strategies to inexpensively acquire real estate.
Now, Otton wants to share the wealth by sharing the wisdom, teaching Aussies how to buy and sell real estate without cutting banks and other middlemen in on the deal.
Otton has been featured in a variety of television programs and magazines, including Today Tonight, A Current Affair, Australian Property Investor and more.
You can learn more about Otton and how to invest in residential real estate without using banks at http://www.rickotton.com.