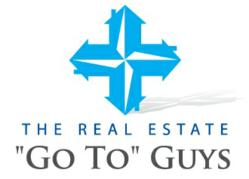 Tucson, AZ (PRWEB) September 05, 2012
The Real Estate "Go To" Guys radio show is the result of two real estate professionals who share a desire to make a difference in today's market by offering information and solutions to families and homeowners who are in distress. Whether the problem started with the loss of a job, a diagnosis from the doctor, a divorce situation, a death in the family or any number of reasons, there is some situation that has put the family home at risk. The mortgage is now late, the notices have begun arriving in the mail and it appears foreclosure is inevitable.
This is a very difficult and emotional time for many families who, out of no fault of their own, find themselves in these very same or similar circumstances. Nearly 85% of all foreclosure notices actually go all the way to the end of the foreclosure process because the homeowners did not know that there were other possible alternatives to the foreclosure. The Real Estate "Go To" Guys want to bring to light some of the alternatives and help prevent as many foreclosures as possible. This does not always mean that the problem will be solved to the point that the family can remain living in the house. However, in preventing a foreclosure, homeownership in the future will be much easier, credit repair is much shorter and the stress involved with the entire process can be greatly minimalized.
The underlying goal of the Real Estate "Go To" Guys is to help homeowners navigate through whatever situation they are in, by evaluating the circumstances and laying out all possible solutions. The Radio Show is an avenue to provide general awareness that alternatives to foreclosure do exist, and that the homeowners may qualify for certain programs or services to assist in dealing with their situation. This weekly broadcast will touch on and discuss some of these alternatives with expert guest speakers. Listeners can call in and ask questions that will be discussed on the air.
The Real Estate "Go To" Guys radio show will air each Saturday morning at 9:00am MST (Arizona) on KCUB 1290 AM and KTUC 1400 AM. This show is also streamed online at http://tunein.com/radio/1290-AM-The-Source-s32185/.
The Real Estate "Go To" guys can be reached at 800-654-7078 or on the web at http://www.realestategotoguys.com.
Send email to: info (at) realestategotoguys (dot) com
Facebook - http://www.facebook.com/RealEstateGoToGuys
Twitter: @REGoToGuys
Text Radio to: 63566