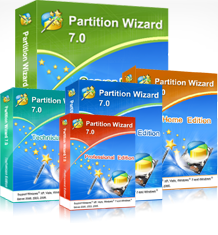 MiniTool Partition Wizard 7.6
Vancouver, B.C. Canada (PRWEB) September 07, 2012
MiniTool Solution Ltd. released partition manager software MiniTool Partition Wizard 7.6 September 2012. New feature include "Extend Partition" and "Split Partition".
Extend Partition is different compare to Move/Resize Partition which needs an adjacent unallocated space to extend the target partition. Extend Partition feature allows users to extend partition by directly taking free space from other partition or unallocated space on the same disk. Split Partition feature allows user to split one big partition into two smaller partitions without data loss.
As partition magic alternative software, MiniTool Partition Wizard has different license targeting different users and operating systems:
Partition Wizard Free Home Edition: Free for regular home users.
Partition Wizard Professional Edition: Added merge partition, support dynamic disk
Partition Wizard Server Edition: Support Windows Server 2003, 2008, 2008R2 and SBS
Partition Wizard Enterprise Edition: Commercial enterprise solution.
Partition Wizard Technician Edition: Designed for IT consulting firms and individuals.
About MiniTool Solution Ltd.:
MiniTool is a software company dedicated to data recovery and disk management software development. Today, MiniTool continues to lead the industry in innovation with its award-winning Partition Wizard application and Power Data Recovery application. For more information about MiniTool and Partition Wizard 7.6, please visit http://www.partitionwizard.com.