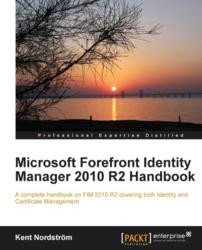 (PRWEB) September 01, 2012
Packt is proud to announce the publication of Microsoft Forefront Identity Manager 2010 R2 Handbook a book that helps readers implement and manage FIM 2010 R2. The book simplifies enterprise identity management for end users by automating admin tasks and integrating the infrastructure of an enterprise with strong authentication systems which helps manage FIM 2010 R2 effortlessly.
About The Author:
Kent Nordstrom: Kent wrote his first lines of code in the 70's. He has formed a strong relationship with Microsoft since it released its Windows 2000 operating system. He has been working part time as a sub-contractor to Microsoft Consulting Services and has done various implementations of FIM and its predecessors for multinational companies and large organizations in Sweden.
Microsoft Forefront Identity Manager 2010 R2 Handbook automates admin tasks and integrates the infrastructure of an enterprise with strong authentication systems. The book follows a fictional company through which the case studies are implemented using FIM 2010 R2.
Through this book, readers will learn how to implement IM and also set up Smart Card log on for strong administrative accounts within Active Directory. They will also learn how to implement and use all the features of FIM 2010 R2. All examples in the books are related to this fiction company and readers will be taken from design, to installation, to configuration of FIM 2010 R2.
Some essential chapters covered in this book are :
Chapter 1: The Story in this Book
Chapter 2: Overview of FIM 2010 R2
Chapter 3: Installation
Chapter 4: Basic Configuration
Chapter 5: User Management
Chapter 6: Group Management
Chapter 7: Self-service Password Reset
Chapter 8: Using FIM to Manage Office 365 and Other Cloud Identities
Chapter 9: Reporting
Chapter 10: FIM Portal Customization
Chapter 11: Customizing Data Transformations
Chapter 12: Issuing Smart Cards
Chapter 13: Troubleshooting
Packt has also published various Microsoft related titles:
Microsoft System Center Service Manager 2012 Cookbook (Expected December 2012)
PHP Application Development with NetBeans: Beginner's Guide (August 2012)
Microsoft Windows Server AppFabric Cookbook (July 2012)
Packt Enterprise is a leading publisher of Enterprise books for Oracle, Microsoft, IBM, SAP, Citrix and other technology companies. Packt Enterprise develops books for Architects, Developers, Administrators and End User alike.