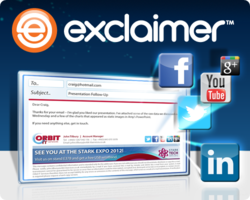 We created this eBook to help them take full advantage of this valuable method of communication.
(PRWEB UK) 1 September 2012
Downloads of Exclaimer's 'How To Make Professional Email Signatures That Work' eBook have beaten all their previous records, say the email signature software company.
Exclaimer launched the eBook earlier this year to pass on knowledge and experience they've gained during the last 12 years serving customers around the globe.
"From our own research we've seen thousands of organisations miss the chance to reinforce the company brand values and drive home a short, sharp, timely and targeted message." Exclaimer Marketing Director Chris Brown explains.
"Businesses all around the world spend billions of dollars on perfecting their communication and advertising strategies only for their own email to let them down, or miss the opportunity to tell a more engaged customer or partner something new – we created this eBook to help them take full advantage of this valuable method of communication"
The comprehensive guide helps the reader to create email signatures that work for their business, providing novices and experts with valuable information. It also discusses how to negotiate some of the common hurdles to creating effective email signatures.
Exclaimer found the most common barrier was simply a resource problem with IT administration teams often the key to unlocking the door. Within busy IT teams, projects that update Email Signatures with new messaging banners or brand elements had a tendency to fall well down the list - but thankfully this problem can be solved by taking central control of email signatures through the use of software.
Andrew Millington, Managing Director of Exclaimer explains, "Software allows marketing departments to control what appears on business email with little involvement from technical IT teams"
"Marketing can simply create a bunch of rules that ensures each department or team gets the correct email signature, branding, and message and the software follows them precisely – when they want to change any element they simply create a new rule and it updates every outgoing email, it's as simple as that."
The 40 page guide also explains how email signature software can control email signatures sent from mobiles, tablets and PDAs, so all mail that passes through the organisation's email server conforms to rules that are set.
The eBook is available on Exclaimer's website to download for free.