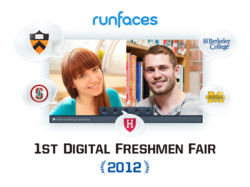 ...Sign up, select your college or university, chat with people whose video messages you liked and BAM!, you have found new friends...
New York, NY (PRWEB) September 03, 2012
Today Runfaces announced that it launches the First Digital Freshmen Fair 2012, conducted exclusively on Runfaces.com.
While freshmen fairs in most universities and colleges primarily help new students find out about local societies, clubs and other activities, the primary concern of every freshman remains the same: to find new friends with similar interests on a campus. The first digital Freshmen Fair run by Runfaces provides the easiest way to address this problem.
To find new people on a campus using the Runfaces video platform, a user should sign up on Runfaces.com with his/her own Facebook account, and add his/her university or college to the Interests section in a profile. Then the service will find  who mentioned the same institution in their profiles and offer a user to watch their already recorded videos or to record another one for further communication.
"Runfaces was created as a video-based social discovery platform that helps people find friends with similar interests. But now Runfaces goes even beyond that. In the career of every person there comes a moment when every friend or acquaintance may be critically important to achieve success in a new venture. Runfaces helps freshmen students build these connections right from the beginning of their student life", says Anton Melnyk, Runfaces' CEO.
"Getting friends at a freshmen fair may be a challenge for new students, especially for shy ones", explains Alex Kryzhevich, the COO of Runfaces. "As a social video network Runfaces is an easy opportunity for them to meet new friends on campus. Sign up, select your college or university, chat with people whose video messages you liked and BAM!, you have found new friends", he adds.
To see the First Digital Freshmen Fair 2012 in action, visit [http://runfaces.com
A freshman or any other user can also take advantage of Runfaces to find people with similar interests, not only students from the same campus. The ability to contact other users via video messages and video chats makes Runfaces the perfect service for anyone who wants real communication in the virtual world.
About Runfaces:
Launched in 2011, Runfaces is a social video network that helps users to find and meet people with similar interests. During the first year of its existence the project has attracted more than 300,000 users from all over the world. Runfaces has been featured in TechCrunch and Forbes Magazine for its original idea and the unique functionality of the service.
For more information, please contact:
Yuriy Romanyukha
Marketing Manager at Runfaces
Mobile: +(38) 063 / 575 73 90
yuriy@runfaces.com
Kyiv, Ukraine