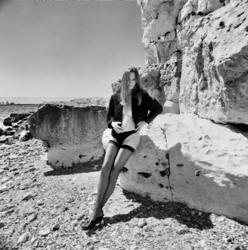 England (PRWEB) September 01, 2012
Carolyn has previously had some involvement with modeling. A New York agency expressed an interest in her, and an earlier picture led to a celebrity date. She also has a long association with Geoff Woods, Film Director and Photographer. He recently contacted Carolyn to see if she was interested in a new project, which would coincide with the release of his latest film Sunday, http://www.filmsunday.net, at the Brighton film festival,produced by his Bad Dad company.
The result was her latest assignment. Geoff's idea was to revisit the Sussex coastline and the dramatic cliffs of Seven Sisters and Newhaven, in tribute to the famous British photographer Bill Brandt, who had done so almost 60 years ago, also with abstract figures. They also decided to make some photographs in the genre of the late Helmut Newton, albeit in their own style.
These photographs and all of those on http://www.carolynbrennan.com were produced on film, with no digital enhancement, and were taken in the Brighton area, during three intense days of shooting, in July 2012 by Geoff Woods.