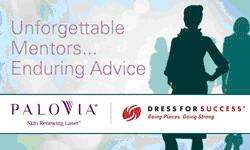 Burlington, MA (PRWEB) September 05, 2012
The PaloVia Skin Renewing Laser empowers women to take the future into their own hands – and so does Dress for Success, an international organization that promotes economic independence for disadvantaged women by providing a network of support, professional attire and career development tools.
In the spirit of Dress for Success, the PaloVia brand wants to create a forum for people to share the nuggets of professional advice that made a difference in their lives. That's why the PaloVia brand is launching Unforgettable Mentors…Enduring Advice, a Facebook campaign aimed at capturing the timeless advice of teachers, relatives, coaches, bosses and mentors.
With Unforgettable Mentors…Enduring Advice, the PaloVia brand encourages the Facebook community to reflect on their professional journeys and share the best piece of advice they've ever received. During the campaign, Palomar Medical Technologies, the company behind the PaloVia Skin Renewing Laser, will donate $1 to Dress for Success Worldwide for every entry.
In addition, each person who submits a nugget of advice will be entered to win a free PaloVia Skin Renewing Laser – the first FDA-cleared, at-home fractional laser, which has made the benefits of laser skin treatments more convenient than ever before. Entries will be accepted from September 5 through October 1.
"Dress for Success excels at mentoring women and building the formative relationships that help them succeed," says Nancy Teumer, Global Marketing Director for Palomar Medical Technologies. "We are delighted to support Dress for Success by creating a forum for our Facebook community to reflect on their professional journeys and pass along their most helpful nuggets of knowledge."
To submit the best piece of professional advice you've ever received, visit http://www.facebook.com/PaloVia.
About Palomar Medical Technologies
The PaloVia Skin Renewing Laser was developed by Palomar Medical Technologies, Inc., a leading manufacturer of cosmetic lasers for dermatologists and plastic surgeons.
For nearly two decades, Palomar has revolutionized laser skin treatment. In the 1990s, a global team of Palomar laser physicists and esteemed dermatologists began experimenting with non-ablative fractional laser treatments — a new technique that kept the outer layer of skin in place ("non-ablative") and treated only a small portion ("fraction") of the skin with each application of light. In 2000, Palomar filed a patent application on this fractional laser technology and later began selling systems to doctors for use on their patients. In 2009, after years of clinical studies, Palomar received FDA clearance for the first at-home fractional laser clinically proven to reduce fine lines and wrinkles around the eyes.
For more information about the PaloVia laser, winner of the 2011 Allure Breakthrough Award, visit palovia.com.
PaloVia Customer Care:
1-866-PALOVIA (1-866-725-8642)
info(at)palovia(dot)com