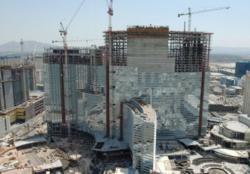 $100 Early Registration Discount Ends September 7
Dallas, TX (PRWEB) September 04, 2012
The Construction Audit & Cost Control Institute's construction audit and fraud training enhances your organization's ability to effectively audit and control construction costs. "Effective Auditing of Construction Activity," will be led by Rich Townsend, President of the consulting firm R. L. Townsend & Associates. Courtenay Thompson, of Courtenay Thompson & Associates, will lead "Construction Fraud: Detection, Prevention & Response."
For some seminar participants, insights have led to dramatic improvements in contract management and cost control. For example, in response to class discussion of video usage on jobsites, an attendee subsequently arranged to tie equipment rental billings to job site video records. The result was a cost recovery of over $1 million.
Effective Auditing of Construction Activity – 16 CPE Credits
This two-day seminar provides auditors with insight on how to partner with their management team to conduct effective audits of their organization's construction activity. Specific "how-to" construction audit techniques will be discussed. Attendees will learn how to effectively establish audit coverage to achieve "risk based" cost avoidance and cost recovery results.
Who can benefit from this learning experience?
Owner organization representatives who are involved with auditing or administering construction activity including:
1. Owner's construction audit representatives (internal audit and/or external consultants)
2. Owner's construction management executives, project managers, administrators, procurement representatives and/or legal representatives, internal audit and/or external consultants
Construction Fraud: Detection, Prevention & Response – 16 CPE Credits
This seminar explores types of fraud common to construction, techniques for reducing construction fraud and how to respond when fraud surfaces. The content is practical and hands-on, loaded with strategies and tactics, tips and techniques.
Who can benefit from this learning experience?
Anyone committed to making a difference in the construction fraud arena - project managers, internal auditors, investigators, risk managers, finance professionals, security professionals, managers, consultants, attorneys - whether employed by companies, government or not-for-profits, or in public practice. This course is designed primarily for owners' representatives but contractors can benefit as well.
The Construction Audit and Cost Control Institute, Inc. (CAACCI) is a resource for sharing information and solutions for today's challenges in construction auditing and construction cost control. CAACCI members include project management and construction audit representatives from a wide range of private and public organizations throughout North America.