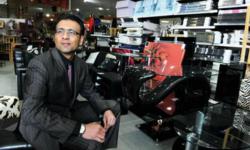 FurnitureInFashion announces plans to open their first Flagship store in Dubai within the next 6 months
(PRWEB UK) 3 September 2012
FurnitureInFashion revealed its expansion plans and announced its new business venture by opening its first flagship store in Dubai with the next 6 months. The flagship store of FurnitureInFashion in Dubai will exclusively sell living room furniture and dining room furniture initially and will expand its operation gradually. FurnitureInFashion is targeting the areas in Dubai which are concentrated with many attractive interior decoration and design shops, restaurants and cafes. On this announcement of this plan, the owner and Managing Director of FurnitureInFashion Asad Shamim said, "FurnitureInFashion has been providing complete home solutions in the UK for over 5 years now. It remains there today and is widely considered to be one of the leading online retail stores. We have been able to attract large number of customers to our online catalogue and showroom in Bolton with our unique approach to design innovative and invigorating furniture products.
Our brand's attitude has been to drive trends forward and create authoritative, affordable and brilliant furniture for everyone. We are now willing to expand our operations and contribute towards setting new trends in the global business."
FurnitureInFashion has earned a great reputation with an energetic approach to produce truly exciting and contemporary furniture. The new flagship store of FurnitureInFashion will play an important role in building up the profile of the company and strengthen the brand image in Dubai. FurnitureInFashion has been able to gain great traffic on its website from different countries and its online customers have enjoyed every bit of their shopping experience. Asad said, "Through the use of technology, FurnitureInFashion has successfully created a destination for its customers where they can experience the quality, beauty and craftsmanship of FurnitureInFashion's great furniture collection in a truly luxurious way. It's time that we take another step ahead for which we have decided to launch a flagship store in Dubai. The flagship store will support our online store as well"
The flagship store of FurnitureInFashion in Dubai will start with selling of living room and dining room furniture only. The company will launch its entire range of living and dining room furniture in its flagship store with an experience rich meeting place. Just like the showroom in Bolton, FurnitureInFashion is going to add varied colors and designs in its store to lead the customers from one inspiring mood to another. Mr. Asad said, "We are going to target the potential market with few furniture ranges. It will be more like a sample test. We are expecting a positive response which will eventually be materialized with an introduction of our entire catalogue."
Mr. Asad said, "We are happy to be able to find a good business location in Dubai. This flagship store is the spearhead of our strategy and mission to showcase FurnitureInFashion at its best to the whole world. We are also opening new stores in different cities of United Kingdom as well and having a flagship store in Dubai is part of our overall expansion plans." Asad also added that the flagship store will have also play a significant role when the company will seek to open doors to new distribution channels or to find new partnerships. The marketing team of FurnitureInFashion is formulating a celebration plan of its new flagship store arrival in Dubai. The company is aimed at providing the best quality products with a unique and inspiring shopping experience.
About FurnitureInFashion
FurnitureInFashion is a UK based online retail business. It supplies furniture items from its German based warehouse and has a showroom in Bolton, UK. The company provides everything from umbrella stand wall art and room dividers to bedroom, bar stools and computer tables. FurnitureInFashion offers excellent free delivery within UK and has a fantastic customer service as well. For further information and details about the sale, visit http://www.furnitureinfashion.net