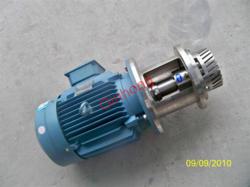 Jinhu, Jiangsu Province (PRWEB) September 01, 2012
China based Ginhong is one of the most reputable companies which produce the high shear mixer for industries around the world. They engineer and manufacture the batch homogenizer for many different types of companies on both the domestic and international market.
Engineers at Ginhong have meticulously designed the batch homogenizer to be the central feature of the vacuum emulsion mixer. It is made up of a stator, a rotor and a transmission. The rotor rotates at 3000 rpm which causes a strong centrifugal force which causes the raw materials to be pulled into the high shear zone. This design is highly researched and developed by engineers at Ginhong.
The JX batch homogenizer is capable of completing the entire process which involves the dispersion, shear, emulsifying and homogenizing agents. The unit is designed so that it will work effectively with various mixing tanks. Engineers at Ginhong designed the hydraulic system which helps make the machine easy to clean and maintain. The batch high shear mixer is used in different industries to make various substances. Chemical companies use it for manufacturing polyester, shoe cream and synthetic fiber. The food industry may use them for making dressings, jams or butter. They are a very versatile machine designed to use in many different products.
The full line of homogenizers, mixers and tanks designed and manufactured by Ginhong engineers can be viewed at http://www.ginhong.com/. Ginhong remains the leading provider of mixing machines to companies around the world. Contact information is also found on the website for companies who want to get in touch with the manufacturer.
About Ginhong
The company founded in Jinhu has expanded and grown to the point that they provide their mixers to industries on both a domestic level and an international one. The rapid growth began right after beginning in facilities located in Jinhu, Jiangsu Province. The team of engineers at Ginhong conducts their own extensive research and then develops and manufactures the mixers that the company in known to produce. The mixers are produced specifically to supply various industries with mixers and emulsifiers which are used to manufacture substances which are used for pharmaceutical, cosmetic, chemical and food products.