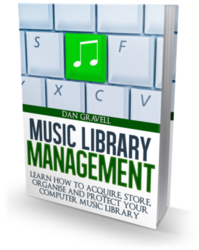 (PRWEB) September 06, 2012
"Music Library Management" was published today as a free ebook available for download. The author, Dan Gravell, is a computer music library expert with over sixteen years of experience in computer audio. The ebook is a broad introduction to building, organising and maintaining a computer music library.
Dan Gravell is the founder of elsten software and writes 'bliss', computer software to automate the organisation of computer music libraries. bliss has been downloaded over 100,000 times since being launched in November 2009.
"I receive email from a lot of new purchasers of devices like Sonos, Linn DS, Squeezebox and similar home music systems" said Gravell. "The devices work well but there's a lot of 'best practice' involved in ensuring your music library looks as good as it sounds. That means making the music navigable by 'tagging' music files and recognisable through the use of artwork. This book is an attempt to collect together much of the first principles of computer music library management."
The ebook covers a broad range of subjects, ideal for those new to the area to understand various aspects of computer music library management. The ebook starts by discussing the best ways of acquiring new music, from online sources or ripping from CDs. The most efficient and flexible ways of storing your music are discussed, along with choosing between the different music file formats. Much of the 'meat' of the book is devoted to ways of organising your music library so it is set up to be navigated and browsed in the best way possible. Finally, an important chapter discusses ways of protecting your music library from accidental data loss, virii and hackers.
The ebook is available in PDF, EPUB and MOBI (for Kindle) formats. To download a copy, visit http://www.blisshq.com/music-library-management-ebook.html .
About elsten software: elsten software (http://www.elstensoftware.com) write tools to manage digital music collections. Their first product is bliss (http://www.blisshq.com) - a fully automatic rule based music organizer ideal for home servers. Contact Dan for more information: dan(at)elstensoftware(dot)com or telephone +44 (0)20 3397 1517