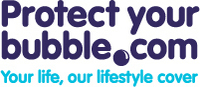 (PRWEB UK) 1 September 2012
With most Brits taking a combined value of gadgets worth up to £500 on holiday with them, it is perhaps not surprising that people have become adept at hiding them in unusual places.
A recent survey conducted by specialist gadget insurer Protect your bubble revealed the most popular place to hide a mobile phone whilst on holiday was under their belt! A massive 37% of people chose this peculiar hiding place followed by 28% choosing to hide their gizmos in shoe or sock. Protect you bubble also discover people are not shy of hiding away their gadgets in their underwear! 22% have hidden item in their pants and 13% of women have used their bra.
The study also reveals that over a fifth (22.5%) of carefree Brits do not take out insurance on their gadgets when travelling as they don't think they will lose them, even though 64% of responders said they were prepared to leave gadgets wrapped in a towel while on the beach.
While the creative ways in which people are hiding their phones is to be applauded these same people could be taking a huge risk by leaving them unattended. And while a phone in your pants maybe safe from theft, it could be more prone to other types of damage.
Stephen Ebbett, director at Protect your bubble UK comments "Mobile phone insurance is worthwhile considering. Our gadget insurance policies offer cover against accidental damage, theft, breakdown outside a manufacturer's warranty period, worldwide cover for 90 days and optional loss cover"
Gadget insurance offers extra piece of mind, and allows you to be sensible about where on your person you keep your gadgets. For all the information on what's cover under Protect your bubble gadget insurance policy and to obtain an instant quote visit Protect your bubble.
Protect your bubble is an online gadget insurance provider, specialising in great value insurance cover for iPhones, Smartphones, mobile phones, cameras, laptops and more. Quotes can be obtained for your gadgets via the following URLs:
Mobile Phone Insurance: uk.protectyourbubble.com/gi-mobile-phone-insurance.html
iPhone Insurance: uk.protectyourbubble.com/ip-iphone-insurance.html
iPad Insurance: uk.protectyourbubble.com/ipad-insurance.html
Find Protect your bubble UK on the following social networks:
Facebook: facebook.com/ProtectYourBubble
Twitter: twitter.com/protectyrbubble
YouTube: youtube.com/protectyourbubble