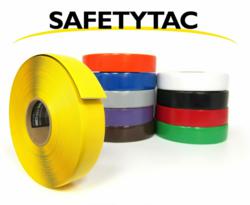 "The installation of the floor tape was easier than I thought. We were able to mark off aisles in no time and continue with production on the floor with no interruptions."
Lake Oswego, OR (PRWEB) September 04, 2012
Industrial and manufacturing facilities look to floor tape as a very important function with keeping the workplace a safe environment for workers and visitors. Aisle Marking Tape is just one of the many safety products offered through Creative Safety Supply. This new product is an excellent easy-to-use aisle marking tape to create zone areas in the workplace to assure workers and visitors are kept safe from possible hazards. It is durable to hold up to some of the most extreme conditions in the factory from heavy forklift and truck traffic to heavy foot traffic. The length size of the rolls of tape is more than plenty to get the job done and is more affordable than most other brands.
Industrial SafetyTac is now widely regarded by both large and small companies to be the most effective, longest-lasting and affordable process for lining warehouse and manufacturing floors. It was designed to out-perform paint in the harshest environments. Marking aisles with paint is considered "old school". Paint will chip, scratch and disappear from continuous traffic. Floor tape has no dry time, cure time, fumes or messy clean up like paint has. As one plant manager commented, "The installation of the floor tape was easier than I thought. We were able to mark off aisles in no time and continue with production on the floor with no interruptions."
Creative Safety Supply offers the right tape for the job that is required. It is available in 2, 3, 4 and 6" widths and comes in 10 solid colors and 4 hazard-striped colors. A single employee can lay hundreds of feet of SafetyTac tape in a short period of time. But for jobs larger than 20 rolls, the Industrial Tape Applicator is recommended to make the job even easier.
Please visit http://www.creativesafetysupply.com for more information about floor marking tapes or call toll-free (866)777-1360 to speak to a knowledgeable customer service rep that can answer all your questions.