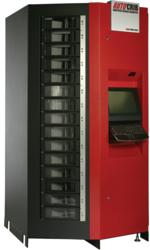 AutoCrib distributors... are an integral part of our brand and we are proud that JIS has earned Premier status for 2012.
Cleveland, OH (PRWEB) September 04, 2012
JIS is proud to announce that the company has been named as an AutoCrib Premier Distributor for 2012. AutoCrib, Inc. (Santa Ana, CA) is a global leader in industrial vending innovation and automated inventory control. This prestigious status is awarded to a select few distributors who have demonstrated the ability to provide the highest level of system consulting, field support and automatic inventory replenishment services, through a commitment to continuing education and dedicated personnel.
"AutoCrib distributors represent us around the globe," states Steve Pixley, AutoCrib CEO, "they are an integral part of our brand and we are proud that JIS has earned Premier status for 2012. Our Premier distributors are capable of designing and installing the most complex and sophisticated inventory control systems in the world. We hope that potential customers will reach out to them first for their hands on experience and deep expertise in the details required to dramatically cut inventory costs in real manufacturing environments."
"We are so pleased to be counted as an AutoCrib Premier Distributor. It is a testament to the quality of service and resilience of the JIS team, no matter what challenges we face in today's manufacturing marketplace," explains Matt Schron, JIS General Manager. "By partnering with AutoCrib, we can deliver the greatest possible cost savings and efficiency to our customers and also better manage our supply chain by integrating AutoCrib systems."
About JIS
JIS, Division of Jergens, Inc., is Ohio's largest, most technical distributor of metalworking products, with quick delivery and a 1,000-square-foot showroom representing over 300 of the top manufacturers in the United States. JIS is a division of Jergens, Inc., leading manufacturer of standard tooling components, fasteners, hoist rings, vices, and other workholding equipment. For more information, please contact JIS at Jergens Way, 15700 S. Waterloo Road, Cleveland, OH 44110-3898. Phone: 216-486-2100 or toll free: 888-486-2100; Fax: 216-486-5014.
About AutoCrib, Inc.
AutoCrib delivers automated inventory vending systems (software and machines) for manufacturing companies, airlines, military, retailers, distributors and others who want to provide 24/7 unmanned access to inventory while maintaining complete control and 100% inventory accuracy. AutoCrib software provides real-time information on all inventory in the system from any computer, tablet or smartphone anywhere on the planet.
AutoCrib has been providing industrial vending solutions since 1995 and has deployed over 15,000 systems worldwide. AutoCrib manufactures the patented RoboCrib™ line of robotic carousel systems, AutoLockers, The EleVend, the world's only dedicated glove vending machine, as well as automated cabinets, RFID vending solutions, handheld scanners, and traditional helix coil vending machines. No other company provides such a variety of point-of-use dispensing technology.