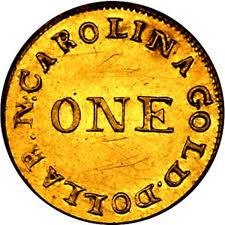 "The history of America's first gold rush and the Bechtler Mint is one of the unique and distinctive experiences that can be found only in North Carolina," said Lynn Davis Minges, assistant secretary of Tourism, Marketing, and Global Branding for N.C.
Rutherfordton, N.C. (PRWEB) September 03, 2012
When reflecting upon America's gold rush, images of miners panning in sparkly California streams may first come to mind, but truth be told, our country's first gold rush actually began in North Carolina. Carolinians and Americans alike can learn the fascinating truth about the first days of gold in this country at the much-anticipated premiere of the UNC-TV produced documentary "Gold Fever & The Bechtler Mint" on Saturday, September 29, 7 p.m. at Rutherfordton-Spindale Central High School in Rutherfordton, N.C. Admission is free.
Filmed in Rutherford County and other locations across the state, the 30-minute documentary tells the story of the Bechtler Mint during the years when North Carolina was the major gold mining state and of Christopher Bechtler of Rutherfordton who, in 1832, minted the first $1 gold coin in the nation (17 years before the U.S. mint). During the mid-1800s, the Bechtlers minted more than $2.24 million in gold coins. Generations later, descendants of the Bechtler family are finding a renewed interest in their ancestry and several are planning to attend the premier.
"The history of America's first gold rush and the Bechtler Mint is one of the unique and distinctive experiences that can be found only in North Carolina," said Lynn Davis Minges, assistant secretary of Tourism, Marketing, and Global Branding for North Carolina. "Visitors are looking for those authentic stories and deeper connections, so it is vital that we celebrate this history and allow visitors to take hold of it through programs and attractions like this."
The premiere coincides with the grand opening of the Bechtler Mint site and the scenic rail-trail that connects it to Rutherfordton, N.C., the home of Bechtler's historic 1838 house, now fashioned into a public museum for this calendar year in celebration of the town of Rutherfordton's 225th anniversary. The Bechtler Mint site itself has more than 100 feet of tunnels below and a panoramic view of the mountains around. Rutherford County, owner of the mine site, in conjunction with the Rutherford County Tourism Development Authority, is currently developing the site with trails and interpretive signage, in addition to creating a safe, attractive, and informative space at the entrance to the mint site tunnels.
"The premiere will also act as the kickoff for a 'Friends of Bechtler' group," said Michelle Whitaker, executive director of Rutherford County Tourism Development Authority. "We hope that attendees will sign up to be a part of this group, whose goal would be to further develop and protect the Bechtler story assets for all residents and visitors alike."
After being shown for the first time in Rutherford County, the documentary will begin airing statewide on UNC-TV Public Television on October 2 at 9 p.m. and October 4 at 10 p.m.
"'Gold Fever and the Bechtler Mint' has been such an exciting project to work on," said Scott Davis, UNC-TV Executive Producer and the film's director. "First of all it's a great North Carolina story that always surprises everyone who hears about it: 'North Carolina, the site of America's first gold rush!' And then the Bechtler connection: how this German immigrant family living in Rutherford County minted America's first one dollar gold coin. It's truly the perfect public television story and we are thrilled to be producing it for UNC-TV."
The documentary has been made possible by the generous contributions of underwriters and donors including the Town of Rutherfordton, Rutherford County and the Rutherford County Tourism Development Authority, the Blue Ridge National Heritage Area, Duke Energy Foundation, Rutherford County Historical Society, Stonecutter Foundation, Tanner Foundation, and Theron Watson.
The premiere is a project of the Rutherfordton 225th Anniversary Committee and the Bechtler Premiere Sub-Committee in cooperation with the Bechtler Documentary Committee and UNC-TV.
UNC-TV provides people of all ages with enriching, life-changing television through its distinctive array of programs and services, including four digital channels: flagship UNC-TV; UNC-EX, the Explorer Channel; UNC-KD, the Just for Kids Channel; and UNC-MX, the Eclectic Mix Channel (available on digital cable only). UNC-TV's 12 stations comprise North Carolina's only statewide television network, made possible through a unique partnership of public investment and private support. UNC-TV is committed to producing, broadcasting and sharing content for and about North Carolina, making it the most important source of information about the state. Visit unctv.org for more information about UNC-TV.
For more information about the premiere, call 828-287-3520 or e-mail goldevent(at)rutherfordton(dot)net. To view photos of the Bechtler House, visit https://www.facebook.com/pages/The-Bechtler-House/252650848164714.
Experience these adventures and more when you travel to Lake Lure & the Blue Ridge Foothills in Western North Carolina. Home to Lake Lure, Chimney Rock, Rutherfordton, Spindale, Forest City and Bostic, there is a world waiting for you to explore, enjoy and love. These events and more are part of our Autumn Peaks event series. We invite you to check out the view from our front porch. Plan your trip today at http://www.rutherfordtourism.com or call 800-849-5998.
###END OF RELEASE###