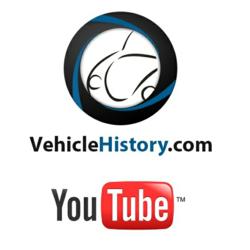 The company has also joined Daily Motion and Vimeo for a wider video audience.
Denver, CO (PRWEB) September 01, 2012
YouTube has debuted many different Internet sensations, from Philip DeFranco (now hosting on YouTube.com/Politics for the Republican National Convention) to Jenna "Marbles" Mourey ("the face" girl). VehiceHistory.com hopes to join these YouTube stars with their own Web fame of videos.
VehicleHistory.com began posting on their YouTube channel full force about a month ago and it has been great for the company. With over 14,000 channel views, the VehicleHistory.com reviews have been excellent.
The company has also joined Daily Motion and Vimeo for a wider video audience. Encompassing all of the VehicleHistory.com channels, there are one to three videos released daily. The videos include topics such as drunk driving PSAs, tips on vehicle maintenance, and contact information for VehicleHistory.com.
VehicleHistory.com plans to expand their ever-growing public relations and social media outreach. Joining these video outlets is just one step to the company's ultimate goal: 100% customer satisfaction in all arenas.
Connect with VehicleHistory.com on Facebook, Twitter, LinkedIn and now YouTube, Vimeo, and Daily Motion. Consumers are also welcome to email Customer Service Manager Josh F. at josh@vehiclehistory.com with any feedback or concerns.
About VehicleHistory.com:
VehicleHistory.com is a number one choice for online vehicle history reports. VehicleHistory.com is most reliable way for customers to get background material about the cars they are interested in purchasing with one of the largest databases of used car information in the United States and Canada. To date, VehicleHistory.com has over 1.6 million vehicle history reports purchased from their online database. Contact VehicleHistory.com customer service 24/7 through live chat or by calling, toll free, 1 (855) 395-6395.