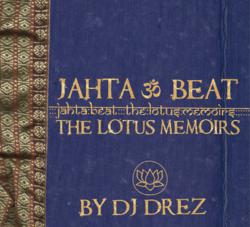 The Lotus Memoirs' sonic journey through down-tempo hip-hop, dub sensibility and sacred mantra mirrors the real-life journey of DJ Drez
Boulder, CO (PRWEB) September 04, 2012
The booming, symphonic timpani drums that you first hear on The Lotus Memoirs make it clear that the fourth installment in DJ Drez's Jahta Beat series is big and bold -- and the beginning of something quite beautiful. Festival audiences will get to experience that evocative something in live performances this autumn.
Released on the upstart Black Swan Sounds label, the album's sonic journey through down-tempo hip-hop, dub sensibility, sacred mantra and even a touch of jazz mirrors the real-life journey of the remarkable artist and producer behind the project, who will take his mesmerizing sounds on the road with concert appearances on both coasts and in Canada and Ecuador. Tour dates include:
8/23-26 Wanderlust Festival -- Whistler, BC (Canada)
8/30-9/2 Water Woman Festival -- Vilcabamba, Ecuador
9/6-9 Bhakti Fest – Joshua Tree, CA
9/15 A Bhakti Yoga / Dance Party -- Northern California
9/22 Yoga at Brooklyn Bridge Park -- New York, NY
9/29 Yoga at Hudson River Park -- New York, NY
10/19-20 Rise and Shine Gathering -- Los Angeles, CA
Playing a dozen or more classes at popular yoga & music festivals gives Drez the great opportunity to present his music to audiences numbering in the thousands, sort of the equivalent of a two-week club tour over the course of a single weekend. He has played in support of such top yoga instructors as Shiva Rea and Micheline Berry, and was a headliner at this year's first acclaimed Tadasana Festival on the beach in Santa Monica, California.
DJ Drez cut his musical teeth in L.A.'s hip-hop scene, working with such artists as Black Eyed Peas, Macy Gray, Aceyalone, Freestyle Fellowship and dozens of others in live and studio sessions spanning nearly two decades. Separately, his Rastafarian spiritual connections drew him deep into dub and reggae circles.
Drez's musical pedigree and street credibility are solidly bona fide, and as a longtime yoga practitioner and teacher, he seamlessly and artfully incorporates the many diverse aspects of his personal path and musical tastes into the fresh sound he calls "Jahta Beat" – an exotic, ethereal and beat-laden East/West fusion of devotion, lifestyle and music.
Drez's unique approach to performance includes applying his signature brand of hip hop, reggae, dub, Indian and even Bollywood sounds to such classic tracks as Buffalo Springfield's "For What It's Worth," Alicia Keys' hit "Empire State of Mind" and even segments of Queen's legendary "Bohemian Rhapsody." His live appearances are like no one else's, and are not to be missed.
Black Swan Sounds (launched in 2011 as an imprint of White Swan Records), patrols the cutting edge of yoga music, presenting a full measure of Beats With Devotion. Uplift, positivity and community are the unifying theme in a catalog ranging from ethno dub and organic hip-hop to psychill soundscapes and global electronica. Artists include yoga hip hop pioneer MC Yogi, turntable master DJ Drez and global bass phenoms Desert Dwellers.