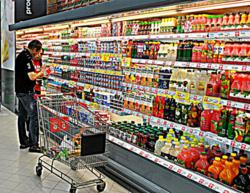 "A 27% sales lift from a promotion is unprecedented. We are extremely impressed, and excited to work with the Jana platform for future promotional activities."
-- Gift Samabhandu, Danone Indonesia Marketing Director
Boston, MA (PRWEB) September 11, 2012
Group Danone, the French-based food products corporation, turned to Jana Promotions to reach consumers in the burgeoning market of Indonesia, resulting in a sales increase of 27% for Danone in Indonesia.
To tackle the challenges associated with driving trial of products and engaging in meaningful dialogues with consumers in Indonesia, Danone Indonesia partnered with Jana to run a promotion in Carrefour stores across Jakarta.
The promotion had two main goals: promoting purchase of multi-pack Activia and Milkuat yogurts, and driving bundled purchases of two or more products. The incentive for consumers was straightforward: purchase two or more Milkuat or Activia multipacks and receive a 5,000 Indonesia rupiah (IDR) rebate in airtime directly on your mobile.
After the ten-day promotion, the results were impressive:
+ Multipack Sales Increased 27 percent
Danone experienced a 27 percent sales lift of Activia and Milkuat multipacks.
+ Sales of Bundled Purchases Doubled
Compared to prior sales data collected, the sales of two or more Danone multipacks more than doubled during the campaign.
+ Opportunities for Re-Engagement
As a follow-up after the campaign, consumers were asked if they would like to opt-in for similar promotions or surveys in the future. 100 percent liked the promotion and 99 percent expressed interest in participating in future campaigns.
+ 100 percent of the Airtime "Coupons" Redeemed
Two weeks after the campaign ended, 100 percent of the scratch cards distributed were redeemed.
Says Gift Samabhandu, Danone Indonesia's marketing director, "A 27% sales lift from a promotion is unprecedented. We are extremely impressed, and excited to work with the Jana platform for future promotional activities."
About Jana:
Jana helps global brands engage directly with consumers in emerging markets via mobile phones. Through our partnerships with more than 235 mobile operators in more than 100 countries, Jana can send airtime rewards to more than 2.1 billion people. Leading brands such as P&G, Unilever, Danone and Microsoft have used the Jana Mobile Rewards Platform to conduct consumer research, launch product promotions, and create consumer loyalty campaigns.
To download a copy of the Danone case study please follow this link:
http://www.jana.com/case-studies/danone-indonesia-boosts-sales-27-percent-using-jana-promotions/
For more information, please visit our website at http://www.jana.com.