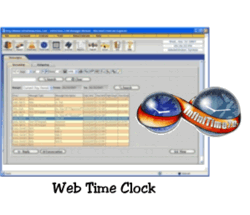 Beaumont, TX (PRWEB) September 05, 2012
Gone are the days of manually adding up employee hours at the end of the week. Time clock software through Time Clock eShop streamlines the payroll procedure, providing businesses with the management tools required to track worker time and streamline attendance tracking. Additionally, this time clock validating technique quickly collects punch-in and punch-out data from each individual staff member, supplying payroll personnel with up-to-the-minute worker status.
With time clock software, any workstation or centrally situated computer may become an internet based time and human resources gateway. Using this computer, staff members get access to their particular human resources data and may view daily work times, days off, and examine time card data. Solely using one system to combine time attendance, human resources, and payroll software offers an immediate increase of overall performance and provides a self-management tool for employees to alleviate the workload of hectic human resource departments.
Precise time management and accurate recordkeeping is an integral part of the bottom line for just about any organization. Managing time and labor expenses is an integral part of labor costs, which may be one of the biggest expenditures for just about any company. Additionally, time clock software helps prevent overpayment or underpayment to employees for hours labored, decreasing the monetary assets and resources needed to fix these mistakes.
Another advantage of time attendance software programs is the opportunity to combine their beneficial features with most of the popular payroll interface programs utilized by companies around the world. Firms that provide bookkeeping and accounting services or companies which utilize in-house payroll services can certainly take advantage of the feature of this time clock software. By combining time attendance software with payroll interface programs like ADP, Paychex, Peachtree, and QuickBooks, companies can expect improved payroll results and an immediate increase in productivity.
Time eShop provides ways for efficiency-minded businesses to lower business personnel expenses while making the most of work productivity. Companies small and large alike reap the benefits of these affordable and modern time clock methods.