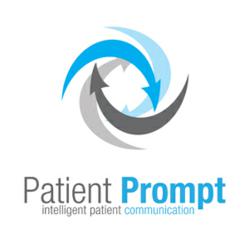 Patient Prompt® is the culmination of over six years of research and development in the field of effective patient communication...
Toronto, Ontario (PRWEB) September 04, 2012
Patient Prompt®, the industry leader in patient-communication technology since 2004, has been recognized as a Greenway Medical Technologies Certified Partner Solution.
Patient Prompt® has worked closely with Greenway to offer PrimeSUITE® users a seamless user experience. Patient Prompt®'s proprietary "Seamless Two-Way Technology"™, (((Smart Calling Technology)))™ , and industry-leading "Best Practice Protocols" offer practices a more effective, customized, and affordable patient-communication solution.
Highlights:
•Real-time patient confirmations automatically updates the Greenway® PrimeSUITE® scheduler every 3 to 5 minutes.
•Highly customized voice, text, and email reminders specific to patient needs.
•Multilingual messaging provides comprehensive patient-communication capabilities.
•Intelligent programmable features offer preventative care, patient recall, billing reminders, mass patient-notifications, and patient-outreach protocols.
•Meaningful-Use compliance protocols designed to significantly improve patient outcomes.
"We are pleased to offer Greenway PrimeSUITE® users our advanced technology," says Jeremy Greven, President and CEO of Prompt Alert Inc. "Patient Prompt® is the culmination of over six years of research and development in the field of effective patient communication, and is an ideal enhancement to Greenway's PrimeSUITE® award-winning EHR."
Patient Prompt® will feature its advanced patient-communication tool at the upcoming Greenway PrimeLEADER™ 2012 conference in Orlando, Florida, from September 6 to 9, 2012.
"Our focus has always been to offer a comprehensive patient-communication tool that meets the present and future needs of health care providers," says Greven. "Greenway's® users will now be able to experience our intelligent proprietary technology that significantly reduces patient cancellations, increases efficiencies, and assists in Meaningful-Use compliance in improving patient outcomes."
Greenway PrimeSUITE® users will be able to try Patient Prompt® absolutely free for 14 days to discover the power of intelligent patient-communication. For more information, visit us online at http://www.patientprompt.com/greenway.
About Patient Prompt®:
Since 2004, Patient Prompt® has been the leader in advanced "Seamless Two-Way Technology,"™ providing its subscribers with the most effective, affordable, and reliable patient-communication tool in the healthcare sector.
Over 10,000 providers in 35 different specialties have selected Patient Prompt® as the preferred patient-communication tool for their practice environment. It is ideally suited for enterprise-level practices requiring a more effective and customized solution.
About Greenway and PrimeSUITE®:
Greenway Medical Technologies Inc. delivers smarter solutions for smarter healthcare.™ PrimeSUITE®—Greenway's certified and fully integrated electronic health record, practice management and interoperability solution—helps improve care coordination, quality, and cost-efficiency as part of a smarter, sustainable healthcare system. Thousands of providers across 30 specialties and sub-specialties use on-premise or cloud-based Greenway solutions in healthcare enterprises, physician practices, and ambulatory clinics nationwide. For details, see greenwaymedical.com, Twitter, Facebook, or YouTube.
To learn more about this partnership and intelligent patient communication, please contact:
Jill L. Aston
Marketing and Administration
Prompt Alert Inc. | Patient Prompt®
Phone: 1.800.417.9486 x 414
Fax: 1.866.390.1486
Email: jill(dot)aston(at)promptalert(dot)com