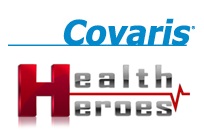 Woburn, MA (PRWEB) September 01, 2012
Covaris announced today that they would be featured in an upcoming episode of Health Heroes.
With a wide variety of applications in fields like life sciences and genetics, Covaris is quite literally on the cutting edge. Drawing from expertise in fields ranging from molecular biology to acoustic physics, Covaris is known for their patented "Adaptive Focused Acoustics" or AFA technology and instruments such as the new M220 Focused-ultrasonicator currently in use in genetics research laboratories world-wide. The influence of this novel enabling technology is evidenced by new applications which range from products such as t-PREP which will increase the pace of novel biomarker research, to packaging novel drug molecules in liposome formulations to improve bioavailability.
Jim Laugharn, Founder and CEO of Covaris, says "As scientific analytical instruments continue to become more sophisticated, the standardization of the diverse and complicated samples which 'feed' into these instruments becomes more important. Covaris has developed a technology which enabled us to design unique products that provide unprecedented control of numerous, critical up-front preparation steps BEFORE the analytical instruments. Our products simply make the analyzers work better. For example, since the Covaris process is both repeatable and results in more accurate data, clinical DNA sequencing laboratories are beginning to utilize our instruments in their workflow. This will eventually aid genetic screening, cancer monitoring, and microbiological testing in clinical environments. We are pleased to be included in the Health Heroes series as it is important for technology companies to communicate to a broader audience; maybe, a future cancer researcher will see the program!"
In this episode, Health Heroes audiences will explore a scientific community that is more active than ever before. Every day, major advancements are being made in every aspect of medicine. From the latest in DNA sequencing, to the machines that make it all possible, Health Heroes will be on location to document it all.
"Covaris is the company that is making it all happen," said Barbara Perry, producer for the series. "Thanks to their technology, professionals in science and medicine are able to conduct research at a level of quality and efficiency that would be otherwise unheard of."
In this segment, Health Heroes will be on location, in Woburn, Massachusetts. Located just north of Boston, Woburn is home to the US headquarters of Covaris. National television audiences will gain an in-depth look at the science and technology behind some of the world's most advanced research equipment.
About Health Heroes:
Health Heroes is a powerful TV series dedicated to defining and exploring today's latest medical advances in all areas of health and wellness. Written with both the industry professional and television audience in mind, Health Heroes educates, entertains and enlightens the lives of our viewers.
For more information on Health Heroes, visit: http://www.dmgproductions.org or call (866) 496-4065.
About Covaris:
Covaris, Inc. designs and manufactures advanced pre-analytical systems for life sciences and seeks to accelerate the pace of discovery with innovative sample preparation products. In addition, the Covaris technology is unlocking critical hurdles in formulation and drug delivery systems, such as liposome formation with sensitive biologics.
For more information on Covaris, visit: http://www.covarisinc.com or call (781) 932-3959.
Media Contact:
Chad Densen, DMG Productions
(866) 496-4065 x801