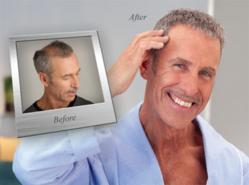 Boca Raton, FL (PRWEB) September 05, 2012
Hair Club has released some surprising findings today based on a recent Harris Interactive poll, which showed that 44 percent of men believe their female partners care more about their hair – how full it is and how good it looks – than their virility. Supporting that statistic, the survey of 2,088 adults also found that 15 percent of single women say they would refuse a date with a balding man. Considering that approximately 40 million people have tried online dating, that could add up to millions of missed opportunities for a relationship.
While balding can present a challenge in the sometimes-fickle dating world, survey respondents noted a much larger issue. More than 70 percent of those polled agreed that going bald could negatively affect one's overall self-esteem and confidence.
"Regaining confidence is just one of the many reasons why people come to us," said Hair Club CEO Darryl Porter. "We fully understand the negative impact hair loss can have on many men and women, affecting their sense of self and personal relationships. It is also a key complaint by many seeking new jobs. They want to look and feel great in their online profile pictures and during those crucial interviews, state of hair loss plays a big part in that."
In fact, 50 percent of adults surveyed in the Hair Club-Harris poll said they believe men with great hair have an advantage in job interviews over those with significant hair loss. The same applies to climbing the corporate ladder. More than 50 percent of the respondents said they felt balding men are less frequently promoted than those with a full head of hair.
"Given these statistics and a U.S. unemployment rate of over eight percent, having a full head of hair could give people the extra edge they need when seeking new jobs or promotions," added Porter.
Conducted from June 29 to July 3, the national survey also shed light on how men of different age groups feel about hair loss. Men 40 and under showed much more concern about losing their hair than those who are 55 and older. Beyond that, men 40 and under are also much more likely to seek hair restoration options than the older men.
For information on survey methodologies or additional findings, please contact Sam Mazzarelli at smazzarelli(at)marlomc(dot)com.
###
About Hair Club:
Founded in 1976 by Sy Sperling, Hair Club is the leader in hair restoration and the largest company in the industry offering all proven hair loss solutions. Hair Club has granted more than 500,000 men, women, and children an experience that truly changed their lives. Today, Hair Club has 99 locations throughout the United States, Canada, and Puerto Rico and is a wholly-owned subsidiary of Minneapolis-based Regis Corp, the largest hair salon operator in the world. Regis brands include: Jean-Louis David, Vidal Sassoon, Supercuts, Mastercuts and many more.