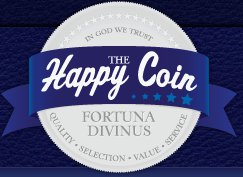 My primary goal is that people buying our coins are completely satisfied with their purchases
Long Beach, CA (PRWEB) September 01, 2012
The Happy Coin will join more than 300 other coin dealers at the Long Beach Coin, Stamp and Sports Collectible Expo from September 6 to September 8, 2012. This leading international coin show has been around for nearly five decades, and this year will include many new attractions, as well as the multi-million dollar Heritage Signature Auction.
For experienced coin collectors, dealers and hobbyist coin collectors alike, there will be exciting events to keep your attention. Get rare coins professionally graded at booth 807 by Professional Coin Grading Service (PCGS), or the Numismatic Guaranty Corporation (NGC) at booth 488.
Near the NGC booth, visit The Happy Coin at table # 650. The Happy Coin specializes in rare coins and valuable currency and boasts an extensive selection of quality Morgan Dollars, Lincoln cents and Mercury Dimes. At their debut show at the 2012 World's Fair of Money in Philadelphia, The Happy Coin was pleased to sell an extremely rare and valuable 1937-D Three Legged Buffalo Nickel, graded MS 66 by NGC and Verified by CAC.
For the Long Beach Expo, The Happy Coin will be bringing, among many other items, several notable coins, including a 1955/55 1c Double Die Obverse PCGS MS 64 Red, 1916 D Mercury Dime PCGS AU 55, 1898 Proof Morgan Dollar PCGS PR 66 DCAM and a 1928 50c Hawaiian Commemorative PCGS MS 64.
The Happy Coin is an authorized PCGS, NGC and CAC Dealer. The Happy Coin is also a member of several wholesale networks, including Certified Coin Exchange, CoinNet and CoinPlex. As such, they have access to a wide variety of quality numismatic rarities at fair prices, which they will happily pass on to their collector clients. Owner Chris Moran states: "My primary goal is that people buying our coins are completely satisfied with their purchases. I believe that providing true value and treating customers fairly and ethically is the foundation of a great business and something that we take very seriously."
Should customers need assistance or have questions regarding coins or coin collecting, The Happy Coin is available toll free at 800-544-3750 or by e-mailing info(at)thehappycoin(dot)com. The staff at The Happy Coin is pleased to answer any questions regarding coins, grade and condition, value or any other numismatic concerns a client may have. Of course, their website, http://www.thehappycoin.com is open 24/7 and includes detailed descriptions of hundreds of exquisite, professionally imaged coins.