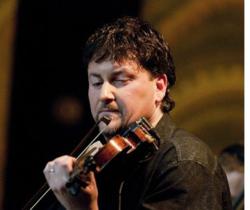 Founding Father Benjamin Franklin wanted "Liberty" to be the US National Anthem
Nashville, TN (PRWEB) September 04, 2012
In recognition and support of liberty, the cornerstone of American democracy and the free world, Ray Legere has self-composed and freshly arranged a dramatic new release entitled "Liberty" inspired by US elder statesman and Founding Father Benjamin Franklin whom historians suggest wanted "Liberty" to be the US National Anthem.
Originally composed as the first patriotic music to be written in America by John Dickinson, the original score swept the colonies in 1768. Ray Legere's newly arranged & composed rendition captures the spirit and energy of the original classic as he offers up a sweet reunion of new and old. Liberty is an old traditional tune with a simple yet timeless melody. After a lifetime of experience gained from studying and performing fiddle techniques Ray has applied the very concept of liberty in his interpretation of the original score by adding lib or taking liberties in creating this modern day remake.
Throughout a long and successful career Ray Legere has had the privilege of working with some of the greatest names in music production and promotion including George Massenburg, Tim Austin, Bill Ballard, Fred Carpenter, Glen Meisner, Gordie Sampson and has personally played for notable iconic Canadians including Ron Joyce, Co-Founder & Chairman Emeritus of Tim Horton's.
At the age of 16 Ray Legere was graced with the chance to fill in for none other than the Father of Bluegrass, Bill Monroe, playing alongside his fiddle idol Kenny Baker.
Today, Ray's fiddle is no stranger to the halls of country, bluegrass, folk, and rock music having performed over 30 years with industry all-time greats including Jim Buchanan, Scott Coney, Andrea Zonn, Pam Perry Combs, Del McCoury, JD Crowe & New South Band, Rhonda Vincent, Tony Rice & Brother Wyatt, Dave Harvey, Kayton Roberts, Michelle Shocked, Alison Brown & Garry West, Prarie Oyster Band, Melanie & Creighton Doan, The Rankin Family, Joan Kennedy, Alison Krauss, Dan Tyminski, Bill Keith, Bela Fleck, Zachary Richard, Rita McNeil, Mike Cleveland, Jim VanCleve, Roch Voisin, Shirley Meyers, The Grascals, Roland White, and Jason McCoy.
In his own words, Ray remarks on Liberty:
"Liberty is an old traditional tune with a simple melody, and one where I thought I could apply my knowledge and experience gained from years of studying fiddle techniques. The title implies to me that one should have the freedom to interpret and embellish a tune in his or her own way, to ad lib or take liberties playing a tune. This tune was a popular jam session tune at festivals I attended when I started playing music, so I thought it was the perfect choice for portraying how I play today.
Liberty starts off in the old-timey way of just fiddle with banjo accompaniment. It's played in a key where a lot of double notes can be played to add to the drive of the tune.
The next two rounds are with a bluegrass rhythm section, adding guitar, mandolin and acoustic bass. I used techniques I learned from the great bluegrass fiddlers of the day. With a modulation of the key, I moved to a higher register and changed the style to a country hoedown. Adding drums and piano to the mix brings it into square dance mode.
Many tunes similar to Liberty came over from the old country, so I thought it would be fitting to breakdown a celting setting with piano backing. I applied some bow cuts and left hand twirls used extensively by Irish and Scottish players. From there the band got into full groove and we swung the tune.
The next couple of chorus' were sort of let loose and go with whatever came to mind from the many years of listening to all music styles and also listening to the other players on the recording. I also wanted to come up with a non-traditional type finale, so I changed that up, but made sure the last 2 measures completed the tune with a common and familiar fiddle ending: back to the roots of fiddle playing."
Ray is on North American tour with Bowfire and performs regularly with long-time friend John McDermott. Ray is also currently working on several albums including Liberty and will be performing live at the 2012 Celtic Colors Festival October 5-13.
Liberty can be heard at ReverbNation, purchased online at FiddlersFriends.com, or viewed on YouTube
For more information and to arrange interviews or live performance contact F1- PR:
+1 (647) 832 0007, PKOLI(at)F1-PR(dot)COM
LINKS:
YouTube: http://www.youtube.com/watch?v=W-vZ0TrLWI8&feature=plcp
ReverbNation: http://www.reverbnation.com/raylegere