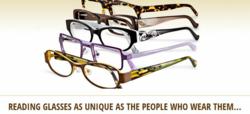 In creating these reading glasses, I wanted to highlight the personal style that develops with life's experiences – to showcase the personalities and trendsetting fashion sense of the Baby Boomer generation
New City, New York (PRWEB) September 19, 2012
Baby Boomers' influential style and attitude toward aging are the inspiration behind a new line of high quality, trendy reading glasses for men and women. Renee Bachner, an optician with 25 years' experience, saw that her Baby Boomer customers wanted reading glasses that were trendy but not over the top and had the useful product features that they felt were most important. Inspired by their desires and personalities, she drew upon her fashion and design background to create ReneesReaders.com, which offers a selection of glasses actually named after her customers, such as as the modern day retro Bernie and the casual, elegant Libby.
"In creating these reading glasses, I wanted to highlight the personal style that develops with life's experiences – to showcase the personalities and trendsetting fashion sense of the Baby Boomer generation. They also had to be top quality. Renee's Readers non-prescription reading glasses provide the same high quality found in many of the best prescription lenses and frames, but at non-prescription prices," says Bachner. "Dealing with my own aging and knowing that it was now or never, I decided to pursue my dream."
Renee's Readers are optical quality, providing sharp, clear vision. They feature timeless, classic shapes in an up to date modern design. The selection of flattering frame styles and colors suit a variety of face shapes and skin tones. They also offer the comfort features found in more expensive frames including long temples with sturdy spring hinges, wide bridges and a large lens area for easier viewing of reading material.
ReneesReaders.com focuses close attention on the details that make it's optical quality reading glasses the perfect balance of practical and trendy. Classically flattering frame shapes and stylish accents of color combined with valuable product features, result in an on trend look you can rely on and feel at ease wearing.
For further information, please visit http://www.reneesreaders.com.
A portion of each sale will be donated to benefit Alzheimer's research and support services.