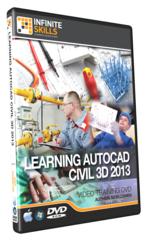 Learn AutoCAD Civil 3D from a Leading Pro
(PRWEB) September 01, 2012
Video courseware provider InfiniteSkills Inc. has announced the availability of its latest AutoCAD Civil 3D 2013 Tutorial Video series, narrated by professionally certified CAD trainer Seth Cohen.
With 106 separate lessons explaining the program's tools at a beginner level, the Civil 3D training course is available on DVD-ROM or as a direct download from the InfiniteSkills website. The training offers a comprehensive guide to planning, design and project exploration, integrating real world topographical data sets into expansive dynamic models.
InfiniteSkills Autodesk AutoCAD Civil 3D 2013 Tutorial Video - Training Course
The first chapter of the AutoCAD Civil training course begins with a breakdown of the software's user interface. Instructor Seth Cohen identifies each of the major Toolspace areas and shows them in basic use. After a chapter on setting and modifying points, the Civil 3D tutorials look at how to connect to and use survey databases, including figures, points and queries.
The next half of the AutoCAD Civil course covers surface settings, alignment and modeling. The tutorials show how to add contours to and edit surfaces, how to perform analyses and how to add labels for organization and collaboration. The Civil 3D training then moves through creating assemblies and subassemblies, modeling corridors, grading and laying out pipe networks. The training also covers collaboration and reporting tools, from quantity diagrams to parcel tables and reports.
"What's really the most exciting aspect of using Civil 3D is its dynamic connection to real data," said author Seth Cohen. "With older standalone CAD programs, the drawing was always cut off from relevant GIS information. In AutoCAD Civil 3D, it's all linked and up to date."
The AutoCAD Civil 3D 2013 Tutorial Video course is paired with sample data sources that sync with examples used by author onscreen. While most of the training uses these datasets and sample models, viewers also learn how to connect to custom data sources used in their own projects. "Seth provides CAD training and solutions to engineering firms for a living, so these AutoCAD Civil tutorials reflect a professional perspective and the best practices used throughout the industry," said Chris Johns, content coordinator for InfiniteSkills. "The training is directly translatable into real-world use."
As Vice President of Training for CADmanage, Seth Cohen has conducted hundreds of on-site seminars on AutoCAD and Microstation worldwide. A certified AutoCAD Civil 3D Implementation Expert and Autodesk Level 5 Geospatial Technical Specialist, Seth has worked as a surveyor, design technician, and CAD manager on topo, boundary, and Department of Transportation projects throughout the Eastern United States. He is also a speaker and trainer at National AUGI CAD Camps and has designed specialized training courseware for the Ford Motor Company.
The complete Autodesk AutoCAD Civil 3D 2013 Training Video can be ordered from the InfiniteSkills website for $99.95 USD. The tutorial joins the company's extended courses on Autodesk AutoCAD 2013 and multiple versions of AutoCAD Revit, offering a library of resources for designers and engineers throughout multiple disciplines. Free shipping is available throughout the US and Canada, and purchase options are available worldwide.
http://www.infiniteskills.com/training/learning-autocad-civil3d-2013.html
About InfiniteSkills Inc.
A leader in the field of software training, InfiniteSkills strives to offer the highest quality training at an affordable cost. InfiniteSkills tutorials are task-oriented instructional videos, teaching complex skills by providing hands-on examples and guiding users as they carry out critical objectives. InfiniteSkills offers a comprehensive range of software titles available as DVDs, digital downloads, and in iPad editions, keeping with company aim of delivering professional training to customers anywhere they want to learn.