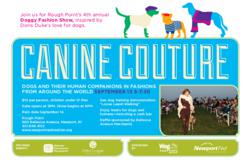 Newport, RI (PRWEB) September 04, 2012
The Newport Restoration Foundation will host Rough Point mansion's fourth annual Fashion Show of Canine Couture on September 13th. The program will feature Aquidneck Island four-legged canine fashionistas and their human companions dressed by Bellevue Avenue boutiques. Inspired by Doris Duke's love for dogs, the event is sponsored by Newport pet boutique Wag Nation and Newport Fed. Proceeds from the event benefit the Newport Restoration Foundation (NRF) and the Potter League for Animals.
The grounds and exhibit galleries at Rough Point open at 5:00 pm on Thursday, September 13; the fashion show begins at 6:00 pm. Admission is $10 per person (children under 12 are free) and includes entrance to the exhibit, Passport to the World: Doris Duke the International Traveler. Rain date is September 14th.
"We are thrilled to be hosting this program for the fourth year. The Doggy Fashion Show has been a fun and engaging way to bring the community together in support of great causes that were close to Miss Duke's heart, the Potter League and NRF," said Lisa Dady, Director of Education and Programs for NRF. "This year you will see the dog and human models walking the runway with international flair, which ties back to the exhibit's travel theme."
Attendees are invited to bring their own canine companion to see the show and enjoy Rough Point's sweeping views. All dogs must be on a leash; dog waste bags will be provided. There will be treats for both humans and dogs and a cash bar, with a special appearance by Jonathan Pogash, the Cocktail Guru. And guests can also see a special dog training demonstration – Loose Leash Walking – by Potter League experts.
Rough Point mansion is located at 680 Bellevue Avenue in Newport. For more information, visit http://www.NewportRestoration.org.
Rough Point was willed to the Newport Restoration Foundation by Doris Duke upon her death in 1993, complete with all of its contents. It was her express wish that it be opened to the public as a house museum. Founded by Miss Duke in 1968, the Newport Restoration Foundation, a non-profit institution, was formed with the express purpose of preserving, interpreting, and maintaining landscape and objects reflecting Aquidneck Island's 18th and 19th century architectural culture.