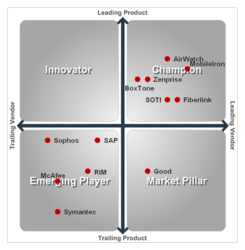 London, ON (PRWEB) September 05, 2012
The prevalence of Bring Your Own Device (BYOD) has nearly doubled in the past two years, making Mobile Device Management (MDM) an important and valuable industry according to new research from Info-Tech Research Group. A Mobile Device Management Vendor Landscape report, published by Info-Tech Research Group, ranked MobileIron, AirWatch, Zenprise, BoxTone, SOTI and Fiberlink as Champions in a market that drips of innovation while the industry soars.
"We found that pure-play vendors are innovating faster and offering more feature-rich products than the security vendors who have entered the MDM game as a branch of their larger business," said Mark Tauschek, Lead Research Analyst for Info-Tech Research Group. "Eventually this market will see consolidation and commoditization, but the past year brought even more vendors entering the market and a continuing rush to add unique functionality."
MobileIron is well known to the MDM space thanks to a powerful and flexible solution. The Champion vendor is a young pure-play company that is quickly rising to become one of the best known MDM vendors. With a variety of features and integration options, MobileIron can fit most MDM needs, according to the report.
Ranked as a Champion, AirWatch is noted as having the most complete set of advanced features. One of the best known pure-play MDM vendors in terms of both mind share and market share, AirWatch has an innovative set of features at a reasonable price.
Fiberlink's MaaS 360 is a cloud-based MDM solution that is quickly gaining in popularity. Also a Champion in the report, Fiberlink has traditionally been in the business of managing PC and Mac laptops in their cloud platform, but has risen to notable fame in the MDM world over the past year. Fiberlink's unique and innovative cloud-only solution also earned the vendor the Trend Setter award.
SOTI landed as a Champion in the report, offering powerful MDM software with some unique capabilities. If application development, app management and help desk control are sought, the analysts urge buyers to consider SOTI's MDM platform.
Rounding out the Champions for the report, BoxTone also lands the Best Overall Value award. The vendor offers innovative application-wrapping technology in addition to their MDM solution and is particularly strong in application management.
For the full list of Info-Tech Research Group's recommendations for selecting a Mobile Device Management Suite vendor, visit: http://www.infotech.com/research/ss/it-vendor-landscape-mobile-device-management-suites
Info-Tech Research Group Vendor Landscape reports recognize outstanding vendors in the technology marketplace. Assessing vendors by the strength of their offering and their strategy for the enterprise, Info-Tech Research Group Vendor Landscapes pay tribute to the contribution of exceptional vendors in a particular category.
About Info-Tech Research Group
With a paid membership of over 25,000 members worldwide, Info-Tech Research Group (http://www.infotech.com) is the global leader in providing tactical, practical Information Technology research and analysis. Info-Tech Research Group has a fourteen-year history of delivering quality research and is North America's fastest growing full-service IT analyst firm.