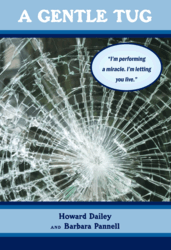 No matter how bad a situation seems, if you have faith in God, He will provide your every need.
Cookeville, TN (PRWEB) September 03, 2012
What would happen if people were given the chance to experience heaven, and live to tell about it? It was this experience that Howard Dailey shares in his new book, "A Gentle Tug" (published by WestBow Press) writing of the events that occurred after a rogue motorcycle accident left him for dead. After his bike malfunctioned, throwing his body into a tree, his life came to an abrupt end.
Dailey spent the next 45 minutes enjoying heaven before experiencing a miraculous recovery.
"One moment I was in paradise – then suddenly, I heard the words, 'I'm performing a miracle. I'm letting you live,'" Dailey recalls.
Dailey's new book, "A Gentle Tug," shares his true story through tragedy, heaven and his grueling – and many times "iffy" – recovery process. His heart-wrenching and oftentimes hilarious story shows how God chose to use him to encourage others to keep the faith, no matter what.
"A Gentle Tug" is co-written by Barbara Pannell, manager of Dailey's business, Howard's Vitamin Store, as told to her by Dailey.
"God surprised me by saying, 'You are to write this book,'" recalls Pannell. "I immediately started the project. It's truly an amazing and inspiring story."
A dramatic telling of a life that has taken tremendous faith, courage and strength just to get through the days, "A Gentle Tug" serves as encouragement and motivation for readers of all ages.
"No matter how bad a situation seems, if you have faith in God, He will provide your every need," Dailey said.
"A Gentle Tug"
By Howard Dailey and Barbara Pannell
ISBN: 978-1-4497-1335-5 (soft), 978-1-4497-1337-9 (hard)
Approx. 143 pages
Dimensions 6 x 9 x 0.5 inches
Hardcover: $30.95
Paperback: $13.95
E-book: $9.99
Available at Amazon, Barnes & Noble, Westbow Press
About the authors
Howard Dailey began his Christian ministry in 1976, which includes radio, television and speaking nationwide. He owns Howard's Vitamin Store, located in Gallatin, Tennessee, where he practices the art of reflexology. He has received an honorary Doctorate of Divinity from Logos University, Jacksonville, Florida. Dailey resides in Cookeville, Tennessee, with his wife, Thelma. They have three children, eight grandchildren and fourteen great-grandchildren
Barbara Pannell has known Howard Dailey for years and has been Manager of Howard's Vitamin Store since 1998. Barbara and husband, Harold, reside in Hendersonville, Tennessee. They have two children and one grandchild.
# # #
**FOR IMMEDIATE RELEASE**
EDITORS: For review copies or interview requests, contact:
Hannah Shaner
Phone: 317-602-7137
Email: hshaner(at)bohlsengroup(dot)com
(When requesting a review copy, please provide a street address.)