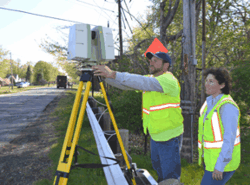 "North Ridgeville is one of the fastest growing suburbs in Northeast Ohio. Roadway improvement projects such as this help to maintain a great quality of life" - City of North Ridgeville Mayor David Gillock
Elyria, Ohio (PRWEB) September 05, 2012
The City of North Ridgeville is preparing to widen and reconstruct a 0.64-mile portion of Chestnut Ridge Road between Bainbridge Road and the City's eastern corporation line. The purpose of the project is to improve east-west mobility by removing deficient pavement, widening the two-lane roadway, and adding four-foot shoulders for enhanced safety and drivability.
Civil engineering firm KS Associates, Inc., of Elyria, Ohio, provided design engineering services for the project. KS Associate's design calls for maintaining traffic, eliminating the need for detour routes and providing continued access to businesses and residents during construction. KS Associates submitted the final bid package for this estimated $1.06 million project in only 12 weeks from authorization to proceed. The actual low bidder came in at $875,000 and construction is anticipated to begin after Labor Day 2012.
According to City of North Ridgeville Mayor David Gillock, "North Ridgeville is one of the fastest growing suburbs in Northeast Ohio. Roadway improvement projects such as this help to maintain a great quality of life, and place our community in a good position to attract new residents and businesses."
The project is being funded through Ohio Public Works Commission financing.
About KS Associates:
Celebrating its 25th Anniversary, KS Associates is a civil engineering and land surveying firm founded in 1987. The firm provides land survey and mapping services; 3D laser scanning services; design, bidding and construction administration of public infrastructure and transportation projects; and site development engineering services for residential, commercial and institutional projects. For more information visit: http://www.ksassociates.com.