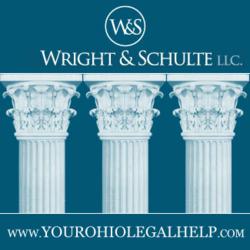 Wright and Schulte LLC - Ohio, a leading full service, law firm handling injury cases throughout all of Ohio. For a FREE Consultation call 1-800-399-0795 or visit www.yourohiolegalhelp.com
Columbus, OH (PRWEB) September 06, 2012
Ohio firm Wright & Schulte LLC, a full service Ohio personal injury law firm representing Ohio auto car accident victims throughout all of Ohio, announces they have filed an Ohio car - auto accident lawsuit on behalf of a Dayton woman who was injured in a rear-end collision with another vehicle last year in Huber Heights, Montgomery County, Ohio. The Ohio car - auto lawsuit complaint, which was filed in Montgomery County Common Please Court, alleges the Defendant negligently and carelessly operated her vehicle, causing it to collide with the rear of the car being driven by the Plaintiff. (Case No. 2012 CV 06213 Docket ID: 17470561)
According to the Ohio complaint, the Plaintiff was traveling in her car, a 2011 Oldsmobile, southbound on State Route 201 near Brandt Pike in Huber Heights in May of 2011. The Plaintiff, who was behind an RTA bus, began to slow down in response to the bus braking and slowing down in front of her. It was then that a 2007 Chevrolet being driven by the Defendant collided with the rear of the Plaintiff's vehicle. Among other things, the lawsuit alleges the Defendant failed to exercise due care in the operation of her vehicle by failing to maintain an assured cleared distance from any and all vehicles ahead of her car.
The lawsuit charges that negligence on the part of the Defendant caused the Plaintiff to sustain injuries, including but not limited to injuries to her thighs, shoulders, neck, knee and back, as well as extensive damage to her property. As a result, the Plaintiff has experienced permanent severe suffering, including loss of enjoyment of life, and will be expected to endure future pain and suffering, incur future medical expenses, and a diminished quality of life.
According to the Ohio State Highway Patrol, 553 motor vehicle accidents, including 48 that involved fatalities, were investigated in Montgomery County in 2011. The Ohio car accident lawyers of Wright & Schulte LLC understand these statistics represent real people and families whose lives have been financially, emotionally and physically devastated, often due to another's negligence. Wright & Schulte LLC is proud of the reputation they have earned for aggressively pursuing and holding responsible those whose negligence on the highway all too often results in serious injury to innocent people.
[statepatrol.ohio.gov/statistics/statspage.asp?Area1=57]
Wright & Schulte LLC offers free lawsuit evaluations to victims of Ohio car auto accident crashes, truck accidents, and other motor vehicle accidents throughout Ohio. Please visit yourohiolegalhelp.com, or call (937) 222-7477 to learn more about your options for legal recourse.