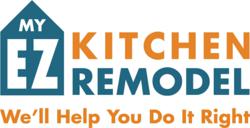 I think this is the feature that most homeowners will like the most - the reassurance that help is only a phone call away
Seattle, WA (PRWEB) September 17, 2012
A new online program geared towards homeowners intending to remodel was launched this week. My EZ Kitchen Remodel™ was created as a result of the thriving remodeling market and a desire by many homeowners to manage their own remodel. "The goal of this step-by-step online system is to help homeowners successfully manage their own kitchen remodel, without the extra expense of hiring a general contractor", stated Ken Cornett, Expert Remodeler and Co-Founder of My EZ Kitchen Remodel™. From design through construction, the program is streamlined and thorough, and offers options including Custom Kitchen Design services and a Remodeling Consulting Help Line.
The Leading Indicator of Remodeling Activity (LIRA) by the Remodeling Futures Program at the Joint Center for Housing Studies of Harvard University suggests that annual homeowner improvement spending may reach double-digit growth by the first quarter of 2013, based on the study LIRA: Remodeling Activity Poised for Strong Growth published July 19, 2012.
"Many people enjoy the challenges and rewards of do-it-yourself projects, especially when it comes to their homes," stated Linda Kruger, CEO and Co-Founder, "and we found that those who do attempt to manage their own remodel end up going over their budget and their stress limit. My EZ Kitchen Remodel™ gives them all of the tools to build the kitchen of their dreams and stay on budget while not getting too stressed out – especially since help is just a phone call away."
The program is broken down into 5 easy-to-follow steps: design, quotes, budget, schedule and construction. Each step provides information on standard procedures, sequencing, products and materials, common mistakes, resources and recommendations.
Beginning with design, the EZ Kitchen Planning and Kitchen Design Guides contain information needed to document every aspect of a new kitchen, including a "Measure Your Kitchen" section. Once completed, a homeowner has everything required for a professional designer to develop design drawings for their project. They can then choose to either work with their own designer or use EZ's in-house designers, for an additional fee, to customize a design for them. Customers receive floor plans, elevations and a 3-D drawing. Once the layout is determined, the extensive 22-section Product Information library provides critical information needed to make educated decisions on product and material selections, in addition to sections on demolition and property protection.
Shopping for the best price and value are quick and easy with EZ's streamlined Quote Sheets; just fill in the blanks for each section, and quote requests are emailed, tracked and compared. Checklists, forms and advice on selecting and hiring subcontractors are also included. Approved quotes are automatically filled into the Budget Sheet, along with the homeowner's costs, which determines the total cost of the kitchen remodel before construction begins. Adjustments can then be made here as needed to meet the budget, avoiding cost increases later.
The EZ Scheduler gives homeowners complete control and the ability to coordinate their kitchen remodel with their lives and families. It also shows the sequence and length of each step, advises when to order materials and when to schedule subcontractors. For the construction phase of the project, EZ's Construction Monitoring guide explains how to oversee the construction work, check for quality, and what details to look for; in addition to check lists, money-saving tips and common mistakes to avoid.
Expert advice is only a phone call away with EZ's Remodeling Consulting Help Line, purchased in increments as needed. "I think this is the feature that most homeowners will like the most - the reassurance that help is only a phone call away," says Cornett.