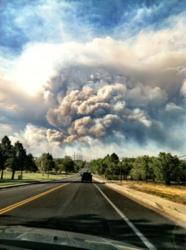 Colorado Springs, CO (PRWEB) September 01, 2012
Firefighters contained the Waldo Canyon Fire, burning outside of Colorado Springs, in early July, putting to rest fears of many homeowners of losing their houses and property in the blaze. Though over 300 homes were lost, further loss was contained. However, as the fire burned through over twenty thousand acres it released plumes of smoke into the air, carrying soot and ash particulate matter. These by products of the fire are acidic in nature with the potential to stain and corrode building material, and cause serious respiratory illness and even cause cancer.
Though the Waldo Canyon Fire was prevented from burning further into residential areas, property owners who thought themselves safe may still be at elevated levels of risk unless they have their property professionally decontaminated. Particulate matter from smoke, soot, and ash can be smaller than the diameter of a human hair, and may be present sub-visually at extremely high levels.Often times homes may be contaminated without the owners or residents being aware of the danger.
Loss Recovery Services (LRS) specializes in helping homeowners recover money from their insurance carriers for this type of damage. LRS represents property owners that believe they have damage to open a claim, perform investigation, presenting evidence of damage to insurance companies, and negotiating a proper settlement amount for the remediation of property.
As a part of this property, LRS often works with Certified Industrial Hygienist and Epidemiologist to assist in identifying damage. After the Las Conchas Fire that occurred near Los Alamos, NM, LRS contacted Epidemiologist Dr. Tony Ward to test properties and map out areas where homes were likely to have damage. A copy of this report can be seen on the right. As is shown in the report, winds are capable of spreading smoke, soot, and ash dozens of miles away from the burn zone.
LRS is in the beginning stages of mapping of the Colorado Springs area. Any property owners who experienced smoke, soot, and ash at the time of the wildfire are able to contact LRS for free inspections of their property to determine if they are eligible to recover funds for the remediation of their property.
Loss Recovery Services, LLC, is a public adjusting company originally licensed and bonded by the state of California (Lic. # 2G93517). Loss Recovery Services also holds licenses in Arizona (Lic. # 992281), Colorado (Lic. # 402634), Nevada (Lic. # 805146), New Mexico (Lic. # 100008543), and Washington (Lic. # 766051). If you have been affected by smoke, soot, and ash and are located outside of these areas please contact us for additional information. We are trained experts in recognizing and assessing smoke, soot, and ash damage. To maximize your recovery we fully investigate, present, and negotiate your claim with your insurance company on your behalf.