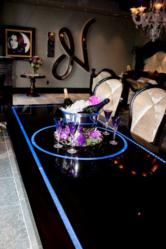 "never pass up an opportunity to create a feeling... feelings, not things are remembered"
Joseph Elias
Beverly Hills, California (PRWEB) September 01, 2012
The Joseph Nicola gallery is one of Beverly Hills newest and most exciting shops to open in the world renowned shopping district. The new gallery is filled with heirloom quality furniture designed created by Joseph Nicola. Rich Mahogany and Walnut are artistically crafted into furniture that exudes luxury and quality. Supple finishes and velvety fabrics sculpted to fit your body create some of the most stylish, comfortable and functional furniture ever. Appropriately sized for large luxury homes the collection will make a statement in the largest of rooms. Each piece is numbered and signed. "Chill," "Plush" and "Engaged" are some of unique names given to each piece and inspired by its design.
"Joseph Nicola collection is our line of limited production pieces which we designed as works of art and function," says owner/designer Joseph Elias. "Our signature style embodies a character that's as distinct and individual as our clients," he adds.
The Joseph Nicola brand brings life, excitement and passion into any space, from private residences and yachts to exclusive hotels and resorts. "Our designs create an expression, an emotion and a feeling meant to be experienced," Elias says. "Never pass up an opportunity to create a feeling...feelings, not things are remembered."
The new Joseph Nicole flagship showroom at the Montage Beverly Hills will be hosting a private Designers Event Thursday September 6th to introduce its collection to local interior designers and architects and their clientele. The showroom located at 216 North Beverly Drive represents a bold approach to design, furniture and fashion that redefines luxury.
Joseph Nicola is well versed in all levels of interior design and offers a wide range of designs that are custom tailored for each client while maintaining a focus on providing a luxurious lifestyle experience.
For more information or to schedule an interview contact Jessica(at)VintageLuxuryHomes(dot)com
###############