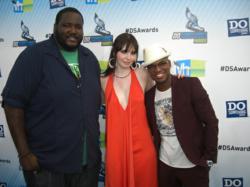 Charity is something near and dear to my heart, so this award show and organization that recognizes those that give back is wonderful. It was a humbling experience being in a room full of people who truly care
Hollywood, California (PRWEB) September 01, 2012
Aspiring model and actress Machaela attended the VH1 Do Something award show. The VH1 Do Something awards took place on August 19th, 2012 in Santa Monica, California. Do Something (DoSomething.org) is a non-profit organization with the goal of motivating young people to take action around social changes through national campaigns and grants for projects that make an impact.
The up and coming starlet walked the the red carpet for the first time with The Blind Side actor, Quinton Aaron. She also met Hollywood superstars such as Talon Smith, Grady Powell, Lisa Raye, Ne-Yo, Will Farrel and Will I Am just to name a few.
"It was such a great experience to attend the VH1 Do Something Awards. It's definitely the coolest thing I have done so far. Walking the red carpet with Quinton Aaron was simply amazing!" States Machaela. "Rubbing elbows with the Hollywood elite is something that I've dreamed of since I was a young child, and for that dream to come true is wonderful! The best part of my experience was running into Will Farrell, and getting to meet Kelly Osbourne and Olympic gold medalist Tyler Clary. One of the most memorable moments of the evening was when my favorite actress Lisa-Raye McCoy walked up to me and asked, 'Where did you get those shoes?' Charity is something near and dear to my heart, so this award show and organization that recognizes those that give back is wonderful. It was a humbling experience being in a room full of people who truly care.
About Machaela
Born and raised in Montana, this beautiful 17 yrs old attends a local high school in Billings. Machaela started modeling at the age of 12. Dreaming big, Machaela wants to move to Hollywood and become a successful model, actress, and pursue studies in Criminal Defense. In Machaela's spare time, she volunteers for St. Jude Children's Hospital, The Cat Sanctuary, and Crave - a charity for Veterans. Machaela is Managed by Jaynie Jackson of Chayil Entertainment, Inc. Machaela will be doing a high fashion photo shoot with famed fashion photographer Shaun Alexander in September 2012.
Contact:
Jaynie Jackson
Chayil Entertainment, Inc.
(818) 971-5259
ChayilEntInc(at)aol(dot)com