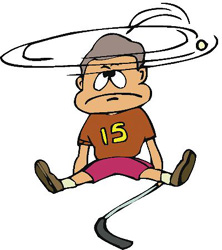 High school football has the highest rate of concussion
(PRWEB) September 01, 2012
School has started and so has high school football season. Time to talk about concussions. High school football has the highest rate of concussion for high school sports. Here at Southwestern Pediatrics Gilbert we have already started to see the influx of the boys coming in with sports injury, especially concussion. This type of injury is one that is very concerning to pediatricians as they are usually downplayed not only by the player but also the coaches. Children are at risk of being put back in the game before there concussions are entirely resolved. This, of course, increases the risk of permanent or prolonged brain injury.
As this is becoming more of a problem, the American academy of Pediatrics recently released a report on concussion definitions, treatment, risks and follow up. This came out of international symposiums discussing only concussion as well as policy statements from other American athletic associations.
The definition of concussion reflected in an international symposium in Austria, defined concussion as: caused by a blow to the head, face or neck or elsewhere on the body with an "impulsive" force transmitting to the head. The result of this is a rapid onset of short-lived neurological dysfunction and then spontaneous resolution. This is usually a consequence of functional rather than structural impairment and may or may not involve loss of consciousness and resolves on a sequential course. However these symptoms may be prolonged with post concussive symptoms.
Overall, everything from that infamous "stinger" the football players talk about to being completely knocked out and "out of it" as they say is a concussion. These symptoms should not be taken lightly and may result in long term over months or years of neurological problems.
There are an estimated 3.8 million concussions in the United States every year coming from both recreational activities and sports related activities; with approximately 9 % of high school athletic injuries being concussions. Girls are affected more severely than boys. Some theorize it is the weaker muscles of the neck in girls and smaller head mass, others believe the discrepancy is because boys are much more reluctant to admit they had a concussion for fear of being unable to play.
Symptoms of concussion span 4 areas: physical, cognitive, emotional and sleep. Major symptoms include headache, feeling foggy, fatigue and sleepiness and irritability. Amnesia along with loss of consciousness may indicate a severe concussion. The amnesia can be retrograde (remembering events before the concussion) and anterograde (remembering events after the concussion). If players have pre-existing conditions of depression, anxiety, ADHD and other mental illness the concussion may exacerbate them. Learning disabilities will be more pronounced or trouble in school may begin. Seizures may happen immediately after the event.
There are multiple assessment tools that coaches can use on the field to identify the neurological deficit or severity of the concussion, that are a series of question to assess memory and cognitive health. If seizures occur or there is a worry for cervical spine injury the player must be immediately transferred to the hospital for further assessment of physical brain, spine injury. If the patient is not physically injured he must not play the remainder of the game and monitored for several hours if not weeks before returning to play.
Once diagnosed and assessed for structural injury with use of CT scans, MRIs and physical exam, there must be close follow up with the player's primary care physician to assess neurological function. Some teams be it school or professional have started to use computerized and paper tools for neuropsychological testing to assess over the recovery period of the players cognitive skills, these test are not well studied and do not have a universal way of scoring, used of functional MRIs which map the activity in the brain are also starting to be used to assess recovery. Overall, however, cognitive and physical rest is important. It has been seen that even playing video games, watching TV or listening to music while recovering can worsen symptoms and that exertion sometimes prolongs the process recovery. Serial neurological physical exam should be done to check brain function, such as balance and reflexes and strength. There are no concrete guidelines on how long to keep a player out of play but this serial follow up will allow the primary care physical to assess if they are ready for the game again.
The real worry about concussions, especially repeated concussions are the long term affects they may have on the brain. Studies have shown that athletes with resolved concussions in the previous year did the same on cognitive testing as a player with a new concussion. Studies have shown the student's grade point averages were lower as a result of two or more concussions. Second Impact syndrome occurs when a player gets another head injury before the first concussion is resolved and this may cause severe brain blood vessel congestion and cause sudden brain swelling and death. The risk of second impact syndrome is the highest in those less than 20, according to a study in 2001 in the Clinical Journal of Sports Medicine. Then there is Post-concussion syndrome defined as 3 months duration of 3 or more of the following symptoms: fatigue, sleep problems, headache, dizziness, aggressiveness, anxiety or depression, and personality changes. Students may have a decline in school performance. If these symptoms exist this is a time to discuss retirement from sports and detailed neurological evaluation.
Overall, concussions are not benign. Children in sports conducive to concussion must be highly vigilant and be educated about the possible long term effects of repeated concussion. Be smart, take the proper precautions to help protect your children from brain injury. Continue to monitor them closely if they do have a concussive episode and make sure you follow up regularly with your primary care physician. If you are worried about your child and concussion, please come and see us so we may discuss and evaluate your child. Happy Football Season!
Reference: Journal of Pediatrics, Sport-Related Concussion in Children and Adolescents, 8/30/12
Southwestern Pediatrics Gilbert is located in the Spectrum Falls plaza at the intersection of Williams Field Rd and Val Vista Drive. We accept most insurance and have a self-pay and payment plan options available. Make us your child's medical home...2730 S. Val Vista Dr. Suite 161, Gilbert AZ 85295. 480-857-6316