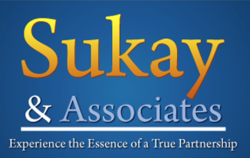 What I tell people is to run their business like they're going to sell it any day.
(PRWEB) September 04, 2012
Sukay and Associates this week appointed John Biasello as the new President of the financial advisory firm. CEO Tom Sukay outlined the reasons behind the appointment, "John and I make all decisions together and I trust John's judgment more than I trust my own." The firm deals exclusively with insurance agencies, building short term and long term plans and brokering sales.
Sukay praised Biasello's strong background in the Insurance industry, as well as his other less tangible skills, "John can go in and talk to somebody and be able to assess their character in minutes. He can assess if a client has the courage to go through with a sale. It's a unique skill that's very valuable."
Speaking after his appointment, Biasello was asked what issues he can see affecting the sale of insurance agencies in the current market. He said that insurance agency owners shouldn't wait for a hard market to sell their agency.
He believes that the idea that owners should delay selling or perpetuating because the market is hardening is a "fallacy". He said, "When it's your time to do this, it's your time. When you've got to the point mentally when you're ready to sell or perpetuate, that should be when you sell."
"This market hardening cycle comes around very often." Biasello continues, "When the market hardens, people say 'the premiums are going to go up'. They think when premiums go up revenue goes up. Being in the insurance industry as long as I have, I've learned that what happens is smaller brokers end up getting the business taken away from them by the larger brokers. Because all of a sudden their clients become more valuable and their competition changes."
He also says that higher premiums don't automatically transfer to higher agency values "it becomes a supply and demand issue. Buyers are educated and when it comes down to it, in a soft market they up the multiple and in a hard market they drop the multiple because there are a lot more people looking to sell. So agencies make more earnings, yeah; but the buyers are going to pay them less."
Biasello sums up his feelings, "What I tell people is to run their business like they're going to sell it any day. Because it may come down to that."
His desire for people to sell for the right reasons comes from the reasons he got involved with Sukay & Associates in the first place. "I met with Tom (Sukay) and we talked about this idea of what it meant to be a good financial advisor. We discussed where the line was when it came to ethics and doing things properly. What we said was that most of the people that we'd met in our lives had little or no ethics when it comes to business. We wanted to make sure that when we did something we did it for all the right reasons. We felt it was important because the people we work for need us. They need us because the service we provide makes their future possible."