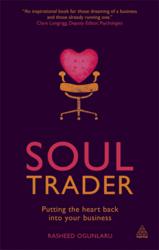 An inspirational book for those dreaming of a business and those already running one
(PRWEB UK) 5 September 2012
In the UK alone there are over 4 million small businesses. The explosion of online business and social media has removed many of the barriers to enterprise, yet statistics show that 4 out of 5 start-ups fail within just 3 years.
In the commotion and stress of actually setting up and growing a business, many entrepreneurs lose their passion and forget the reasons why they set up their business to begin with - leaving them struggling, unsatisfied and ultimately, with an unsuccessful business on their hands.
Which begs the question: If your heart isn't in it, why are you?
SOUL TRADER (October 2012, Kogan Page) enables entrepreneurs to reconnect with their visions, motivations and goals to build a business they really want - one that that is enriching personally AND professionally. Taking a personal tone, but backed up by a powerful, practical framework, it provides seven guiding principles to kick-start readers into action.
Written by leading life and business coach Rasheed Ogunlaru, the book emphasises following your heart, utilising your network and building rich relationships to cut the financial and emotional costs of starting and growing a business in tough, changing times. It replaces mindless business with heart-centred entrepreneurship for sustainable success.
SOUL TRADER cuts the complexity and cut-throat mentality out of business, introducing an easy, painless and economical way of being your own boss or building a business through seven chapters of 'heart centred' principles: Clarity; Customers; Courage; Co-operation; Conversations; Creativity; Compassion and a concluding principle on anticipating and embracing Change.
"The world is changing and so is what people want from businesses. We want and need businesses that are fulfilling, sustainable, meaningful, in balance with our lives - and that make a real impact. Soul Trader helps you do just that", says Ogunlaru, who is the Business Coach partner to the British Library's Business & Intellectual property Centre and whose clients include several entrepreneurs and entertainers.
Practical and motivational, SOUL TRADER is a coach-yourself companion, with insights, inspiration, tips and tools to help you and your business progress whatever your stage.
RASHEED OGUNLARU is a leading life coach, speaker and business coach. He is the Business coach partner to the British Library's Business IP Centre with clients that include entertainers and entrepreneurs. Rasheed runs the inspiring workshop 'Your Life, Your Business' at the British Library each month.
Notes to the editor: Soul Trader by Rasheed Ogunlaru, published by Kogan Page. To be published October, 2012. ISBN: 9780749466374, Paperback, 256 pages, £14.99.
Request a review copy, excerpt or arrange an interview with the author by contacting: Shereen Muhyeddeen 020 7843 1952 / smuhyeddeen(at)koganpage(dot)com or tweet me at @koganpage