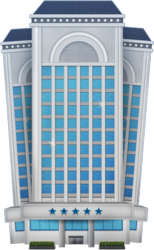 Through this interactive, hotel-themed online competition, participants learn about careers in the highly dynamic and fast growing hospitality industry
Montreux, Switzerland (PRWEB) September 03, 2012
Laureate Hospitality Education, which comprises seven hospitality management institutions located in four continents, is launching You are 5 Stars, the first global and online hospitality competition aimed at creating awareness of careers in hospitality and hotel management among high school students and young adults from all over the world. The competition starts Sept. 3 and has an online game format which allows participants to create a virtual hotel. For eight weeks, 15 to 30 year-olds will be able to participate and promote their hotel ideas to friends and fans.
"Through this interactive, hotel-themed online competition, participants learn about careers in the highly dynamic and fast growing hospitality industry," said Arie A. J. van der Spek, Senior Vice President of Laureate Hospitality Education Worldwide. "Hospitality is the second largest employer in the world after governmental services, and it shows no signs of slowing down. In fact, according to the World Travel and Tourism Council, over the next 10 years, the global travel and tourism economy will grow by 4 percent per year."
The game provides an easy-to-use platform for participants to create a hotel by choosing a particular design or theme, logos and features. Once they have developed their hotel and business plan, participants will test their knowledge on hospitality and their ability to promote their venue via social media or email by inviting friends, family and fans to virtually "check into" their hotel. The game will help students discover a new world of opportunities in the field of hospitality and perhaps find their professional call in this industry.
"The six players with the highest number of "check-ins" for their hotel type will be selected to interview with a jury of industry professionals from top hospitality companies," said van der Spek. "During the interview, the candidates will be questioned on their hotel construction, business strategy, promotion and their general knowledge of the hospitality industry."
The winner will be treated to a world-class hospitality experience at a Laureate Hospitality Education location either in Switzerland, China, the United States, Spain, or Australia.
For more information or to participate in the competition please visit http://www.youare5stars.com or follow us via Facebook® @ https://www.facebook.com/uare5stars or Twitter® @uare5stars.
To watch the video http://www.youtube.com/watch?v=PHfjaJ_qmjE&feature=plcp
About Laureate Hospitality Education
Laureate Hospitality Education is a unique and global group of specialized higher education institutions that provides hospitality, tourism, event, sport and entertainment management degree-level education to students from more than 100 countries. It has seven leading institutions in five countries: Glion Institute of Higher Education, Les Roches International School of Hotel Management and Les Roches-Gruyère University of Applied Sciences in Switzerland, Les Roches International School of Hotel Management in Spain, Les Roches Jin Jiang International Hotel Management College in China, Kendall College in the USA and Blue Mountains International Hotel Management School in Australia. More than 6,000 students attend Laureate Hospitality Education institutions. For more information, please visit: http://www.laureatehospitality.com.