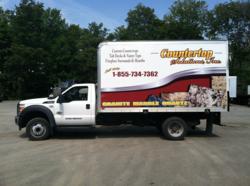 Erie, PA (PRWEB) September 05, 2012
Phantom Signs + Graphics, a custom graphic design company located in Erie, PA, recently announced its upcoming move to a new, larger showroom on Saturday, September 8th, 2012. The new 3,000 square foot facility is located at 5320 Buffalo Road in Erie and will feature an indoor installation bay for vehicle wraps and a showroom that displays a broad sampling of the banners, signs, apparel, decals and graphics that the company offers.
"We will also be adding some new equipment to help service our apparel side of the business," said Brandon Groters, owner of Phantom Signs + Graphics. "We invite everyone to stop in and see our new showroom!"
Phantom Signs + Graphics has been helping local businesses and organizations attract the attention of customers for years with their custom banners, signs, vehicle wraps and apparel. The company added an indoor installation bay for vehicle wraps at the new location to make it easier and faster for customers to market themselves with vehicle wraps. These wraps act like mobile billboards, and customers have seen much success with them, especially in smaller towns where it is often more difficult to advertise.
Phantom Signs + Graphics has heard from many clients over the years how vehicle wraps provide a more affordable and more effective way to get their message out. This is especially important in smaller towns where there are fewer outlets for traditional advertising.
The new, 3,000 square foot location signals another step in the company's successful growth in the design and custom print industry and their continued commitment to never-ending improvement and superior customer service. For complete information about all Phantom Signs + Graphics products and services, visit the company website.
About the company:
Phantom Signs and Graphics was conceived in 2001 by owner, Brandon Groters. The company has grown to offer many of the design and print industries common needs such as commercial signage and installation, custom printed canvas gallery wraps and custom window clings. They are continuously growing and expanding their services to the end user. For more information visit their website at http://www.phantomgraphics.net.