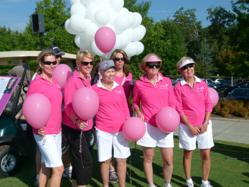 "We're elated to play a small part in this noble effort." Mrs. Bing Liu, Vice President, CFS Corporation
Suwanee, GA (PRWEB) September 02, 2012
The Lynch Family and Costco are this year's Cure Sponsors for the 2012 Pink Ribbon Classic golf tournament to be held September 25 at The River Club in Suwanee. Complete Flooring Supply (CFS) is the Presenting Sponsor of this year's event. The Pink Ribbon Classic benefits the American Cancer Society.
"The Pink Ribbon Classic gives CFS the opportunity to contribute to the fight against cancer. This disease takes so many lives and we're elated to play a small part in this noble effort to prevent cancer and diminish the potential suffering of those afflicted," Mrs. Bin Liu, Vice President, CFS Corporation
Complet Flooring Supply is a national wholesale distributor of hard surface flooring throughout the U.S. and Canada. Visit cfscorporate.com.
Visit http://golf.acsevents.org/site/TR?fr_id=25883&pg=entry for more information.