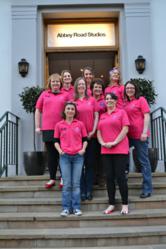 Sarah Gillespie of the choir said, "The clothing has given us a cohesive identity...we were delighted."
(PRWEB UK) 2 September 2012
Second Nature, one of Britain's largest independent kitchen manufacturers, has donated a range of clothing to Military WAGS (Wives and Girlfriends) Choir at Catterick Garrison, as part of their ongoing sponsorship. The 48-strong choir can be seen wearing the Second Nature polo shirts, hoodies, fleeces and ponchos at their concerts across the country.
The WAGS Choir at Catterick supports the families of frontline servicemen and many of the members have partners serving in Afghanistan or away doing training before being deployed. Second Nature are based only 20 minutes away from the Catterick Garrison, and are currently planning a grand charity concert at nearby Durham Castle to further support the choir.
Comments Sarah Gillespie of the WAGS Choir, 'We are delighted with our clothing from Second Nature. It has given us a cohesive identity when we are out in the community and also further afield at events across the country. We were delighted to have been able to wear the polo shirts when we recorded 'Sing' with Gary Barlow and Gareth Malone at the Abbey Road Studios for the Queen's Jubilee.'
Comments Mark Stephenson, Chief Executive at Second Nature, 'We are honoured to be able to help the WAGS Choir and are looking forward to hearing them perform at Durham Castle this Christmas. Singing in such an historical and impressive venue as the Castle will I'm sure, not only be atmospheric, but rousing too.'
Further information regarding the WAGS Choir Christmas concert at Durham Castle will be available soon.
From Second Nature kitchens.