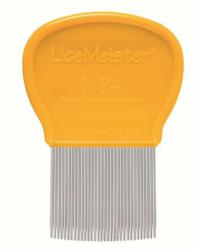 This year, we are working with pharmacies and child care centers to put a comb in every home! -- Mark Linton, School Principal
Newton, MA (PRWEB) September 05, 2012
September is the month the National Pediculosis Association (NPA) kicks off its awareness campaign to last the whole year long.
Pediculosis is the medical term for being infested with lice. In spite of endless lists of treatments promising safety and effectiveness against head lice and their eggs (nits), pediculosis remains prevalent among children in America.
CombFirst! is about reaching out at the beginning of each school year to give everyone the opportunity to be informed on this public health problem for children in their communities.
Routine screening, early detection and thorough manual removal is the only way to safeguard against unnecessary and risky chemical treatments. This is also the best way for parents to have confidence they are bringing their children into school and other group settings lice and nit free.
The health risks of head lice come with the way we respond to them. Too many school policies are reactive in that they emphasize treatment rather than awareness and prevention. Parents are given false expectations of product safety and effectiveness. Infestations become chronic and reports of harm continue. The EPA defines pesticide as a chemical used to prevent, destroy, or repel pests. http://www.epa.gov/kidshometour/pest.htm
Melissa Hysell, a nurse in an Indiana residential facility for children also worries about a lack of sensitivity. "Live lice policies allow children in the classroom with nits which may work for numbers of days in the classroom but it is anything but healthy for a child's self-esteem."
The NPA wants parents to know the safe approach to controlling pediculosis before they make treatment decisions. This is the best way to protect the wellness of children and to stop the response of "find me something to kill these lice!" See Amber's Story http://www.publicintegrity.org/environment/health-and-safety/perils-new-pesticides
Preparedness goes a long way to diffuse the anxiety that can accompany this important public health issue. The NPA reports that stigmas about head lice are no longer about "dirty" as much as parents feeling embarrassed when others detect their child with lice before they do.
Julia Hallisy of The Empowered Patient Coalition http://www.empoweredpatientcoalition.org/ says "Most parents are capable of managing head lice themselves successfully. The key is for them to be encouraged and empowered with trustworthy information."
Parents who screen their children regularly can avoid the dreaded call from school and remove the lice and nits as early as possible when there are fewer of them. It's a healthy incentive for avoiding a crisis mentality.
Mark Linton, Principal at Geneseo Central School is taking a community-wide approach for this September's campaign, beginning with his presentation before the local School Board. According to Mark, "Managing head lice, like many topics, is a community issue. Our role, as school personnel, is to educate parents, students, and community organizations about its prevalence and safe treatments for children. We have a responsibility to be proactive partners for the sake of all students. This year, we are working with pharmacies and child care centers to try and put a 'Comb in every home'".
NPA's CombFirst! campaign offers its official "No Nit Standard" recommendation with a reminder that "No Nit Policies" can vary greatly from community to community. http://www.headlice.org/downloads/nonitpolicy.htm NPA's educational video shows you how to screen and remove lice and nits. http://headlice.org/video/index.php
True combing as a screening and treatment method for head lice was made possible when the NPA developed the LiceMeister® comb in 1997 -- and revolutionized combing tools for lice and nits around the world.
The LiceMeister comb has recently been recognized by ChemSec's Subsport guidance http://www.subsport.eu/ on alternatives to hazardous chemicals and the pilot program for alternatives by the Stockholm Convention. http://headlice.org/news/2011/stockholm_convention_news.htm
The LiceMeister comb is a triumph for the National Pediculosis Association, the nonprofit serving the public since 1983. The NPA accomplished a big part of its mission and leadership by setting this new higher standard for children's health. Visit http://www.headlice.org for more help and information. Children can visit headlice.org's kid's section to learn about head lice and have fun too.
http://www.headlice.org/kids/index.htm
The National Pediculosis Association®, Inc. (NPA) is a 501 c 3 non-profit volunteer organization, including scientific advisors dedicated to protecting children and their environment from the misuse and abuse of prescription and over-the-counter pesticide treatments for lice and scabies. Proceeds from the LiceMeister® comb allow the NPA to be self-sustaining and accomplish its mission.